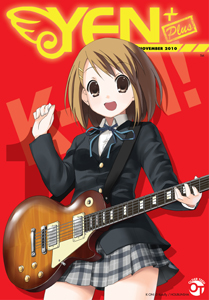 It's the 4th issue of the digital version and the third subscription issue. The monthly payment has been very smooth so far, and is a good reminder for me when the new issue comes out, as I am bad at remembering/checking for these things. I really need an RSS feed to keep me up-to-date, something Viz should think about. I'd be more of a regular at their site if I had a reliable reminder.  The Editor's letter brought about some bad news, as the last chapter of Time and Again appears in this issue. JuYoun talks about some of the reservations that existed for a very Asian title like Time and Again, but it won over the editorial staff, and hopefully a lot of readers. I know I really enjoyed the karmic theme. I didn't find it unrelatable, despite the different mind set. I enjoyed it just for that reason.
Aron's Absurd Armada – This is my favorite 4-koma at the moment. We learn more about Nelson's background and family, and as usual, things aren't what they seem, and the sailors get the wrong impression. It's very well done and very funny with the reveal. His story is told as a tradition manga, so there are only a couple of 4-koma panels, that end up getting Ronnie's goat as Robin is forced to fend off Nelson's half sister from trying to arrest Aron. This title is probably the most fun and funniest title in the magazine.
Daniel X – Daniel is saved by Blaleen, who turns out to be his grandmother. He is then introduced to the rest of his relatives in a large family gathering. He also learns more about his parents, and where is powers may have come from, as well as his friends. Daniel then goes on the offensive, and takes care of Seth in a rather imaginative if not disturbing way. Not a way I would want to go, but you can't say he didn't ask for it. With Alpar Nok free, Daniel is also free to return to earth, and to continue his alien hunt. I'm still enjoying Daniel X. Daniel is a great character, and I do like the interaction with his friends. This is becoming my reason to continue reading the magazine.
Time and Again – It is lamentable to have to say good-bye to this series with this, the last chapter. There has been war in Luoyang, and Baek-On and Ho-Yeon return to the city as they continue their wanderings. There Baek-On spots a boy that seems different than the others. But once again, things aren't quite what the seem. The title ends with Baek-On reaffirming his resolution to remain alone in the world, and continue to walk the path of grudges going against no one but him. Ho-Yeon reaffirms himself to protect Baek-On's path, and they continue on alone, together. It's as happy an ending as this title can get, but it's still a satisfying ending. I'm really glad this title was released, and I will miss it dearly.
Jack Frost – The look back at Hansen's past continues as Hansen and his brother try to fight off Avid the vampire. Hansen is bitten, but Agathe saves him. The same can't be said for Kay and Agathe. Hansen comes out the only survivor, and learns that the bodies of his friend and family are never recovered, and he is made the head guidence counselor of the West District. So now we know all about Hansen's past, but who knows if it'll help any with the present problem of dealing with someone who shoots just like Kay, and could very well be Kay reanimated. I can't say I really cared about Hansen, and seeing his tragic past hasn't really changed anything. Sigfried is mentioned a lot in connection with the Avid and is starting to shape up to be Helmina's rival in Amityville. I wonder how long we'll have to wait before he actually shows up not no just be the puppetmaster behind the strings he's been up till now.
Yotsuba&! – Yotsuba give a tour of her house to the neighbors who end up cleaning up for her and her father, and then they all go out to the country to see a Hot Air Balloon competition. Yotsuba spills more coffee, gets dirty and waves to the Hot Air Balloonists as they rise up. Yotsuba is cute to most people, but having lived with a girl like her in so many ways (ie my youngest daughter), these stories are more ho-hum to me. Everyone else can gush over her. Watching her just make me tired.
K-On! – Second verse is the same as the first. It's like a repeat of the first chapter, as the Pop music club is threated to be shut down again by the student council for not doing anything. So they decide to hold a concert at new student orientation. Mio freaks out about singing in front of everyone, again. Yui has to study for midterms and then forgets how to play the music they'd been practicing, again. Their advisor dressing them up as maids, again. It's just the same plot points used over and over, and it's frankly getting monotonous. The cute girl thing just isn't enough for me.
With Time and Again gone, the magazine goes down to 7 titles, with no indications of anything new being added. I really hope Yen Plus doesn't start down the path that Shonen Jump did for so long, of just being a stagnant collection of titles with only short story/previews that only give momentary relief from the monontony. As it stands, there are only two titles I really care about; Aron's Absurd Armarda and Daniel X. Once again, the Japanese side holds no interest what so ever, just like when the magazine first started but for different reasons. One good Japanese title and a new good Korean title would be a marked improvement. As it is, for $2.99 I'll keep subscribing, but not enthusiastically.