As the impromptu dad and his charge learn to adapt to both one another and their very new living situation, Daikichi is plagues by thoughts of Rin's mother. Who is she? Why has she been quiet all this time? Hot on the trail after discovering a modem at the old man's computer-less abode, Daikichi plays detective in a search for answers. But elementary school enrollment, extracurricular activities, and other parental obligations wait for no man, so when the day of confrontation with the mysterious Masako arrives, will Daikichi be prepared?!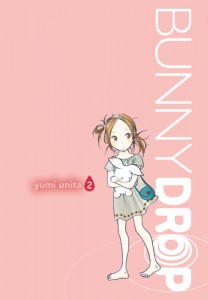 By Yumi Unita
Publisher: Yen Press
Age Rating: Teen
Genre: Drama
Price: $12.99
Rating:





Rin has been with Daikichi for 6 months now, and both seem to have settled into their new situation. Daikichi's demotion to the warehouse has him interacting with more parents than the single guys in the sales department. Rin is finding more acceptance from Daikichi's immediate family and starts to open up to them more. But it's Daikichi's obsession with finding Rin's mother that's the focus of this second volume.
I really enjoyed watching Daikichi's continued adjustment to parenthood. In his new position in the distribution department, he has other parents to interact and commiserate with. The stressing over extracurricular activities, preparing to start elementary school are all things parents deal with, so seeing Daikichi stumble through them is a familiar feeling. I loved the scene at Rin's graduation ceremony, where Daikichi is the only one there without *at least* one camera. Though, he read through Rin's Mother-Child Health Record, and even commented on how thorough the mother was in filling it out, so it was odd that he would have to ask about immunizations. It did make for a good panel for the dirty looks he got from some of the other mothers.
Most of this volume though, was about Daikichi's search for Rin's mother. He has a hard time understanding why she hasn't tried to get Rin back. When he finally meets her, the answer is rather shocking to him. She chose her career over raising Rin. Choosing to continue working while raising a child is a decision a lot of women must face, as we do see in the volume with Kouki's Mom trying to juggle work with Kouki just as Daikichi does with Rin. Daikichi's mother tried working after having him and becoming pregnant with his sister Kazumi, but was forced out by the company she worked for. But Masako takes things a step too far by not even trying, and convincing Rin she isn't her mother. Masako's whole attitude toward it though seems a little extreme, and it's hard not to agree with Daikichi's reactions. But it probably is the best for Rin to not be with her. Children only do better with their parents when they care. They will always flourish with people who truly care for them, and there's no doubt Daikichi cares for Rin.
Bunny Drop continues to be a great title that is charming while being very relatable. Daikichi fumbles though his sudden parenthood just as well as a parent that's been raising their child all along. He struggles through the same choices and decisions, and even parents from the beginning have doubts about their abilities to raise their child properly. He makes good decisions though, and respects Rin's feeling, perhaps more than actual parents might. I continue to recommend this title highly.