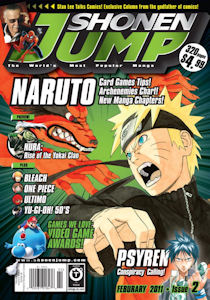 It's a new month, so that means a new issue of Shonen Jump! Do the changes I liked last month hold up? Let's dive in and see! The issue starts with the usual features/ads. This month adds a full-page for the Viz app on the iPad. **yawn** Call me when I don't have to worship at the altar of Steve Jobs to read manga digitally. There is also a one page column written by Stan Lee that basically pimps the new Marvel movies coming out and Ultimo. The video games feature which used to be at the end of the issue is now at the beginning. And I notice the brain teasers that used to be at the back are gone. I guess no one really cared about them.
Psyren starts off the issue with all the newbies taking off toward the sound of a siren that they think is where the gate is. They ignore Ageha's warnings of monsters and leave him with the still unconscious Sakurako. They are thinking of only the reward or going home. They are going to find out how wrong they are. Ageha, the delinquent with a heart of gold, after learning where the gate really is from Sakurako, runs off after them with her on his back. This title is still establishing itself, but I think it's still on the right track. What happens next issue where we will hopefully see Ageha in a fight here, should really set the tone for what the series is about.
This issue prints the first chapter of Yura: Rise of the Yokai Clan, which was online last month. I gave my impressions of it in last month's post. I'll go into the next chapters of Nura after I've finished the print chapters.
One Piece sees the end of White Beard, as he continues to stand up against the navy, to give his men more time to escape. A hint is dropped as well about what the "One Piece" that Gol D. Roger left behind might be. Black Beard and his pirates appear and show off a new ability. Inazuma continues to try to kill Luffy. He and Jimbei are saved at the last-minute by Crocodile and Buggy (who is just trying to escape as well), and taken in by Trafalgar Law, one of the 11 meteor rookie pirates. It's another great ending for a character with the way White Beard goes out, and the momentary flashback he gets. The scene with Gol D. Roger has really sparked my curiosity about what the One Piece really is. Whitebeard seems to have known. I have my suspicions, and can't wait to find out more.
Naruto surprised me this month. Naruto faces his dark side, and fails against him. He talks to Motoi to find out more about Killer Bee, and after some thought, he makes a decision. He is able to face his dark side and defeats him this time. Killer Bee then agrees to help Naruto get control of Nine-Tails. What surprised me about this month's chapters is the decision Naruto came to, and where I really hope it leads him. If he can stop the sulking and go back to the way he was (in some ways) before the time jump, then I think Naruto might become a series I enjoy reading again. Only time will tell at this point.
Yamato finally makes it to Sayama's party in Ultimo, but things don't go quite as smoothly as he hoped. Rune makes his move as he now remembers who he was in the past and seems to have designs on Yamato, and it's really creepy. Jealousy seems to be having second thoughts about being able to defeat Dunstan, and Vice continues his rampage with Eco getting it, again. I'm starting to get a really bad feeling about where this series is heading. I could be completely wrong, and it's nothing to make me want to keep reading to find out if I'm right, but it's in the mag, so I'll keep reading it.
Mayuri seems to be at the mercy of Szayelaporro in Bleach, but Mayuri was just faking it. He's too meticulous to ever be caught so easily by an enemy. The battle then becomes a series of one-ups as each tries to outdo the other in power. Mayuri seems to have the upper hand as the chapter ends, but I'm not believing it until I see his end with my own eyes. The healers get to work as Rukia and Chad are brought back, and Ichigo sends Orihime to heal Nel instead of him. There is still one fight left, with Kenpachi against Nnoitra, and of course the big battle that Byukyua hints at. I really hope this all means that the Hueco Mundo is almost over. It's gone on far too long, and hasn't seem to do much but show how powerful espada are and how much more powerful Soul Society captains are, things we already knew.
Yu-Gi-Oh! 5DS starts up Yusei's battle with the Skeleton Knight, where the ante isn't Sect, but Yusei's soul. It becomes a typical battle, with the Skeleton Knight getting the first points and Yusei making a comeback. The chapter ends with the Skeleton Knight preparing his next big attack. I'm still liking this series, at least more than Yu-Gi-Oh! GX. If you don't like hearing card abilities and stats shouted out as part of the story, this title might not be for you, but as a gamer-inclined reader, I actually find those parts interesting. So far.
For online exclusives, there were three chapters of Nura: Rise of the Yokai Clan and an extended preview of volume 3 of Toriko. Nura has Rikuo reunited with an old friend from his childhood, Zen, the head of the Zen Group. He has come to try to convince Rikuo to accept his role as the Third. Rikuo still refuses, but when Zen is betrayed by his own men, "Other Rikuo" appears and defeats them, once again proclaiming his intention to be the Third, which he promptly forgets when he returns to human form. Then a new character is introduced. Yura Keikain is a new student, who also happens to be a Omyoji, an exorcist of yokai. She has come to Ukiyoe on a training mission to banish yokai. Kiyotsusu then proclaims the start of the Kiyojuji Paranormal Club, and Nura gets to be a charter member. This is seriously starting to look like the original Yu-Gi-Oh! with yokai instead of cards, and it's really not impressing me. Rikuo is really more annoying than anything else. If there was more of his yokai form, then I might be okay with it. There were some classic funny moments with Rikuo seeing the yokai emerge from the doll when no one else did, but it's not really enough to save this series.
The extended preview of Toriko had Toriko with another Gourmet Hunter Coco catching and trying to prepare a puffer whale, a difficult task. Komatsu gets directions from Coco and after a successful preparation, they are all treated to a heavenly meal. A creature then appears that puts Coco and Toriko on high alert, but it ignores them and moves on. It is apparently a robot sent by a rival corporation against IGO, so the "Four Kings" including Toriko and Coco are called to a Biotope to try to stop the next attack. I'm still not impressed with Toriko, though Komatsu has definitely moved up in my estimations with the skill he shows cutting the puffer whale.
It's more of the same to look forward to next month, with just a preview of the upcoming Death Note omnibus edition. And it looks like I'll be fighting my youngest for the magazine again as it has another Yu-Gi-Oh card in it. But things seem to continue to be looking up with the changes. Sadly, as I suspected, online chapters from the previous month are not available to read, which really sucks. I was hoping they would at least keep the online chapters up until the print volume came out, like they do on Ikki and Shonen Sunday. I mean, the viewership is restricted as it is! Why not leave the chapters up longer? At least Yen Press lets you read the previous issue along with the current.