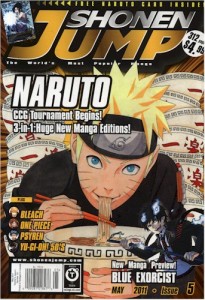 The Drive-Bys are a little late this week do to the blog moving to a new host, the Manga Movable Feast, and most importantly, I didn't get my subscription again, and had to go out and buy it. This is the 4th time in the last 6 months that I haven't gotten my subscription. I can't blame SJ though. I know it's my local post office and mail carrier that can't seem to figure out the difference between the streets Alabama and Tennessee, which is where a lot of my mail ends up. Oh well, I've got my sub extended to August now. One thing I learned from having to buy this month's issue it that Yu-Gi-Oh CCG cards are more popular than Naruto. Last issue I had to buy had all the Yu-Gi-Oh cards removed from the magazines at my local Barnes and Noble. This issue has the Naruto card intact.
SJ continues its celebration started last month by spotlighting the heroes from all the Shonen Jump manga that didn't appear in the magazine. It's quite a list with over 30 titles, both new and ongoing as well as complete. This month's manga highlight is Blue Exorcist, and I'll have more on that later. Also featured are the new 3-in-1 omnibuses that Viz is releases with Naruto, Bleach, Fullmetal Alchemist, and Kekkaishi, as well as a re-release of the One Piece 3-in-1s that cover the East Blue arc.
Yu-Gi-Oh! 5D's starts off the magazine with the arrival of a new duelist, Jack Atlus who is obviously not looking to make friends. Fresh off his duel with the Skeleton Knight, Yusei is taking Sect to the hospital when he is attacked by Atlus and forced into a duel. Atlus has all the making of a typical archrival. He's gunning to be the "king" and is taking on all duel runners to prove how great he is. I do like Yusei still. He acts a lot like "Other Yugi" and even looks a little like him. His hair though, looks like he has dragon antlers, which just makes him all that more cooler. Yeah, I'm still liking this title.
Naruto continues the story of the day Naruto was born and the attack of Nine Tails against Konoha. We the man who calls him Uchiha Madara (I have my doubts about that) is the cause, and had his crazy plan to take over the world back then. Minato faces him, and breaks his control over Nine Tails. But, in order to save the village, both he and Kushina must sacrifice themselves and make baby Naruto the new Jinchuriki. With the end of the story, so ends Kushina's chakra and she disappears. While we learn a little more about "Madara", and how far back his plans started, it's still just tidbits. Naruto himself takes the story of his birth pretty well, but I wonder if it's just going to make him all that more determined to stop "Madara."
Bleach finally ends the battle between Kenpachi and Nnoitora, where we get a few flashbacks of Nnoitora and Nelliel, and some insight into why Nnoitora did what he did. Not that I really cared. But he's no longer a problem. With this battle over, Aizen makes his move, taking Orihime as further bait for Ichigo while he, Kaname, and Gin prepare to destroy Karakura Town, gloating first. But it seems the Soul Society might not be as unprepared as he believes. I really hope this ends the Hueco Mundo arc. It went on way too long, and had no point other than to have lots of fighting with zero plot movement. If that's what Kubo was after, he should have just held a tournament like everyone else, and left us thinking the arc might go somewhere.
One Piece continues the story in the past with Luffy, Ace, and their friend Sabo. Background is given about the Kingdom of Goa and the set up of the capital city. Sabo's past is revealed as well, as is his reason for waiting to become a pirate. A plot by the nobility of Goa though threatens their lives and lives of everyone in Trash Mountain. Luffy and Ace try to fight the pirate Bluejam who did the bidding of the nobility but gets betrayed by them. Dadan comes to their rescue, just as Dragon, who has returned to the land of his birth does some rescuing of his own. These chapters show just how oppressive society can be in the world of One Piece. Not just of the wealthy over the poor, but over each other as well. Freedom is just a wish for someone like Sabo who has to fight not just society, but his own family as well. I liked seeing Dragon as he was just starting out as a pirate. Goa is a great reason to start a revolution.
In Psyren Ageha and Hiryu finally meet Matsuri, Sakuranko's psi teacher. She was once a Psyren Drifter, who survived game. She explains what she knows about the game, and confirms that it is happening in the future. There is a mystery about what happened to Japan, and where the Taboo came from. She also explains about the psi powers and starts Ageha and Hiryu on their training. Sakuranko takes over, where Hiryu catches on quickly, but of course it takes Ageha longer. We are also introduced to a new character, Oboro. He is a famous actor who has acquired a Psyren card, but hasn't tried to use it…yet. I really liked all the background Matsuri gave about Psyren. I like that Nemesis Q just might not be a villain, but is actually trying to save the future. But I'm not taking anything on face value. Hopefully more info in the future will reveal more about his and his goals.
The preview this month is the new title Blue Exorcist. Viz did the thing that I really HATE them doing with their previews. They didn't start with the first chapter. This preview starts with the second chapter with a note to go find the first volume to read the first one. Jerks. Anyway, the story picks up with Mephisto Pheles, the President of True Cross Academy taking Rin and Yukio with him back to the Academy. Yukio already goes there, and Rin will just be starting. Rin wants to become an exorcist to stop his real father, Satan, the god of demons. His first day in his first class comes with quite a shock when he learns who his instructor is. I'm on the fence about this series, especially started from the SECOND chapter. Sorry Viz, this isn't the way to convince me to buy your first volume. I really don't care for the way Yukio treats Rin at the end. It felt really wrong to me. I may, or may not, try to find out more.
There were 4 chapters online for Nura: Rise of the Yokai Clan, finishing up the fight with Gyuki as well as the second volume. Gyuki's history is also revealed, explaining why he has such a problem with Nura becoming the Third. But, at least Nura finally commits himself to taking on the role. In the final chapter, Kana's jealous really starts to grow as she spys on Nura and Yukio, thinking they might be dating, but she's got bigger problems. A yokai seems to have targeted her… I'm glad Viz put Nura online, because I never would have made it past the first volume. The end of the second volume does give me hope for the series, and that it will move out of the internal squabbles about Rikuo taking over, and into more serious conflicts with more yokai. Cause really, I'm just into it for the yokai. And the Night version of Rikuo.
Alright, I'll admit it. I'm hooked on Bakuman now. The four chapter preview of volume 4 really sold me on it. Moritaka and Akito try going solo after Akito couldn't come up with a story by the deadline. Unknowingly, they start working on the same kind of story. Mr. Hattori realizes it, and tries to slow the boys down. But after a month, they start talking to each other and realize they are better as a team and decide to trick Mr. Hattori just as he tried to trick them, and come up with 10 storyboards for their detective manga. Mr. Hattori then challenges them to do a one shot for the next Gold Future, and at the same time, a final draft every two weeks to see if they can handle it and go to school. If they can, he will submit their story at the next serialization meeting. It's hard to explain why I was so hooked in by these four chapters. I think I just find the whole process of making manga fascinating. Because these are the parts that really keep me reading. I don't really care about Moritaka and Miho's relationship. I like the insights into the decision-making at Shonen Jump. And the competition between would-be mangaka isn't something that has to be made up. With these chapters, Bakuman jumps into my must read pile.
I'm not sure when next month's post will go up. I'm not sure I'm even going to get my subscription issue! But I do wonder what is going on with next issue. Viz is calling it the June/July issue. Does that mean it's going to be a bigger issue? Is the magazine going bi-monthly? Nothing has been said so far in press release or on the Shonen Jump website. Maybe it's something they are trying to push through quietly?