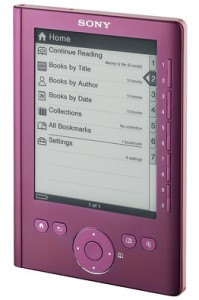 With Mother's Day this Sunday, retailers are pushing tablets, and especially e-readers as gifts for dear old mom. There are ads for the Amazon Kindle, which can be found in Staples, Target and Best Buy, the Barnes and Noble Nook Color, which are at Barnes and Noble and Best Buy, as well as tablets from Apple, Dell, Motorola and Samsung. But you don't see anything for the Sony e-Reader.
Sony was among the first companies to release an e-Reader, and even predated the Kindle. For a while, the rivalry was Sony vs Amazon. Sony had it over Amazon with a reader that could be used anywhere and had a more open format for their e-books. Back in 2009, it would have been my choice of reader. But as more players have entered the ring, it seems that Sony has just gotten pushed further and further to the back. When people talk about e-readers now, it's Kindle, Nook or the iPad. Sony doesn't even come up in the conversation anymore. Do a search on Google for news on Sony e-Reader, and you get either news on Sony's recent woes over the Playstation Network hacking or e-reader news for other products. I could only find 1 story about the Sony e-Reader, and that was about it being sold legitimately in Russia.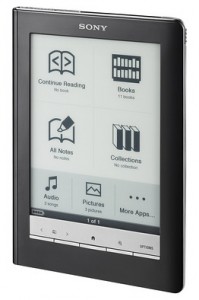 What a difference a year makes. A look at the Sony website shows they are still selling their three e-Readers, with prices starting at $179 for the barebones 5″ screen Pocket Edition up to $299 for the 7″ Daily Edition. They feature all feature touch screens, but that's about all. All of their features were cool last year, but this year, their lack of innovation to keep up with the competition is leaving them in the dust. Also on the website is a comparison of the Sony e-Reader to what they seem to consider their only competition, the Kindle.
One of the problems Sony has always had is their tendency to rest on their laurels, instead of continuing to invovate and move forward. One year ago, if your choice was a Sony or Kindle, I tended to lean toward Sony. Now, I don't consider them to be in the running. They have announced two tablets, but they seem to be more aimed at gamers and portable computer users like the Apple iPad, and not at the e-reader-with-a-touch-more users like me.
Like the clie before it, it seems that the e-Reader is being pushed by the way-side in favor of the more shiny and newer products like tablets. Sounds kind of familiar, doesn't it? Like a certain publisher that closed down recently in favor of more "exciting" pursuits? It's not too surprising though. The Sony e-Reader was endorsed by Tokyopop and TP's manga first appeared on it. Of course, it's all gone from the Reader Store. How much longer does the e-Reader have?