Mafuyu, determined to make the best of the situation and make her mother proud, decides to turn over a new, feminine, well-behaved leaf. But her yanki soul can't be kept down, and the night before school starts she finds herself defending some guy who's getting beaten up. One slip wouldn't have been a problem, except the guy is…her teacher?! How can Mafuyu learn to be a girly girl if her teacher won't let her forget her yanki past?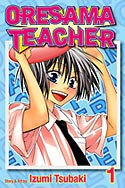 By: Izumi Tsubaki
Publisher: Viz Media
Age Rating: Teen
Genre: Romance/Comedy
Price: $9.99
Rating:





Oresama Teacher is the new manga by Izumi Tsubaki, the creator of the now infamously bad Magic Touch. I never read Magic Touch, but I heard enough to have some reservations going into this title. For the most part I did like the characters, but I had some iffy feelings about the plot.
Oresama Teacher is about Mafuyu Kurosaki. She was a female delinquent, and was the leader at her last school, where she was always fighting. She is using her transfer to a new school as a chance to start over and live a normal teenager life, with real friends. She is a take-charge girl, though not very bright. All of her troubles start when she decides to wear her new school uniform before she starts school and gets into a fight. She is easily manipulated by Takaomi, who knows about her past and uses it against her. She tries to be "normal", but she keeps getting pulled into fights, mostly to help fellow classmate Hayasaka. I don't normally like clueless girls like Mafuyu, but I really like her spunk, and genuine desire to be a normal teenage and have friends.
Takaomi is the Home Room teacher to both Mafuyu and Hayasaka. He was Mafuyu's next door neighbor when she was young. He was delinquent then and was responsible for getting Mafuyu to become one as well. His reason for becoming a teacher seems to be something he's keeping a secret. He is very manipulative. He blackmails his students, and takes great pleasure in it, especially with Mafuyu. He seems to have some sort of plan for her. I did not like Takaomi at all. He comes off as too slimy, despite the moments where it appears he might not be.
Hayasaka sits next to Mafuyu in class. He is a delinquent and is constantly getting into fights. He is a bit of a contradiction. He is very studious about his school work but gets into fights because he need them to feel alive. He doesn't know what to make of Mafuyu either. What he senses as "blood lust" from her, is really just her anxiety, such as needing to go to the bathroom, or ask him for his cell number. The interactions between Mafuyu and Hayaska were the best parts of the book. They were often filled with humor, such as Hayasaka's confusion about Mafuyu, and her attempts to hide her fighting skills from him. She feigns weakness, and wears a mask to keep him from finding out. And for all his book smarts, he falls for her goofy disguise. Hayasaka is my favorite character so far.
The story in this first volume reminded me a lot of Degenki Daisy, with an older character acting mean to the lead, but might actually care about her. The volume ended with Takaomi referring to a "game" in relation to Mafuyu. What he means about that, and if it relates to why he became a teacher feels like a deal-breaker to me. If he's really just a thug who likes to pick on kids, then I'm ready to walk away.
I didn't dislike this first volume, but neither was I wowed by it. My mixed feelings about the characters and possible directions about the plot kept me from really enjoying it. I'll need at least one more volume to decide for sure on this series.