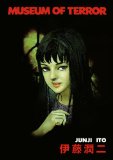 Welcome to the first day of the Horror Manga Movable Feast! We kick things off with a few "Blast from the Past" links.
Thomas Zoth tells you about the Top 10 Scariest Manga you haven't Read at Mania, while Erica Friedman of Okazu revisits Devilman Lady which she describes as a typical Go Nagi manga with "strong women who get naked rather often, and sex, much of which is violent and non-consensual." David Welsh, the Manga Curmudgeon, digs up an old "Unflipped" column for a revisit about Kazuo Umezu's manga of which he says "I've rarely seen a comic with as much insanity per page."
Back in the present, Brian Cronin at Comics Should Be Good looks at "The Scariest Comic Books of All Time", starting with the disturbing Uzumaki. David Welsh is back with a license request for some Junji Ito Josei manga. Ash Brown of Experiments in Manga has some quick takes on horror titles Hellsing, Taimashin: Red Spider Exorcist and Vampire Hunter D, while over at the Hooded Utilitarian Noah Berlatsky kicks off a week-long roundtable on Kazou Umezu's The Drifting Classroom with his entry "I Believe the Children are the Future."
Like your horror manga on the computer screen? Rob McMonigal of Panel Patter has a list of digital horror manga for your computer, smart phone and tablet. Over at Manga Power, Aaron Kooienga reviews Blood Alone, which he calls a "Dark Magical Girlfriend" series, while N at Cat Demon Spirits reviews Museum of Terror: Tomie, which he describes as "too bizarre to take completely seriously, yet too nauseatingly human to ignore…"
Come back again tomorrow for more links!