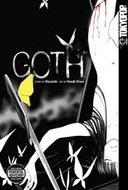 We're past the half way mark of this month's Manga Movable Feast, and are now moving into the home stretch. Today's links are filled with familiar faces, and in this case, that's a good thing!
Day 5 kicks off with a review of Goth from Ash Brown of Experiments in Manga.  Ash says:
…the manga never strays from the tone of the original–it is both captivating and disturbing. Its realism and semi-believability make it very, very creepy.
The Manga Bookshelfers dominate the links today. First, David Welsh of Manga Curmudgeon is back with the monster du jour of the last several years, zombies, with his review of Tokyo Zombie. He doesn't seem to hold a fondness of the living dead, saying:
But really, the best a zombie story can be is crude, quick, and maybe a little subversive, and Tokyo Zombie is all of those.
Kate Dacey of The Manga Critic is up next with a link post of several of the features and reviews she's done of horror manga at Manga Critic in her "Horror Manga from A to Z" article.
Michelle Smith of Soliloquy in Blue reviews an older Tokyopop title, Haunted House. She wasn't really pleased with what she read:
Haunted House is pretty repetitive, but I think I wouldn't have been dissatisfied with it if the powers that be at TOKYOPOP hadn't strongly hinted that Sabato's family has some reason for treating him like they do.
Lastly, I take a look at some horror titles that I not only couldn't read, but just images from them kept me from picking them up! You know, those Things That Make You Go Ewwww.
Check back in tomorrow for more great links!