I know it's not right to judge a book by its cover, but sometimes a picture is worth a thousand words, and a lot of those words can be "Ewwww." While it's great that manga combines the visual with words, sometimes those pictures are enough to make one put down a book, or even never try to pick it up!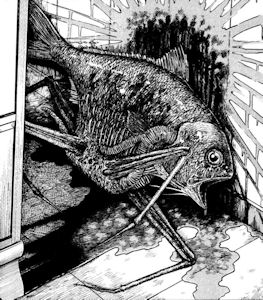 When I got back into manga again in early 2000s, one of the things I picked up all over SDCC was the Sneak Peak books publisher were putting out to increase interest in it. The first one from Viz included the first chapter of Gyo. I was curious about the title, so I read it. Big mistake. The last page of the chapter with the fish with the metallic legs was an image that has stayed with me, and still haunts me on occasion. Needless to say, I never picked any volumes. If an image from just the first chapter could affect me like that, I didn't want to know what the rest of the title could do.
Reading Diamond Distributor's Previews is another good way to know what manga to avoid. For several years we picked up and ordered from the catalog monthly. This is where I first learned of MPD Psycho. The series about a police detective with multiple personalities, one of which may be a serial killer is an intriguing premise. It was an image included with the solicitation that told me it might not be my kind of series. It was a person, sitting serenely, with a plant growing out of their nose. Not a gory scene, but disturbing none the less, and just enough to tell me that I shouldn't be reading this series.
I was also warned off the Hino Horror series through Previews. These I didn't even need to see any interior art. The covers were more than enough to keep me away. The volumes with insects were especially icky, but all of his stuff in general disturbed me. I remember paging through the catalog, with the pages featuring a Hino Horror title going by a lot faster than the rest. I hope there wasn't anything included on those pages that I would have wanted, because I wasn't going back!
Have you ever seen a title that just a cover or image convinced you NOT to read it? Leave a comment and let me know!