Like zombies rising up from their graves, the links are resurrected, and fiendishly multiplying for Day 4!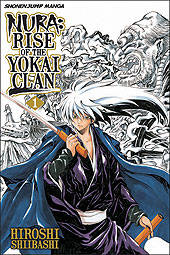 Brian Cronin of Comics Should Be Good returns with another manga in his Scariest Comic Books of All Time. Mermaid's Scar is one of the stories from Rumiko Takahashi's Mermaid Saga. The images and dialog explain why Brian included this story much more eloquently than his words could have.
Kate Dacey of The Manga Critic goes through her collection to come up with her 10 Favorite Spooky Manga. She prefaces her list by saying:
I'm not sure why I find spooky stories so compelling in manga form; I don't generally read horror novels, and I don't have the constitution for gory movies. But manga about zombies? Or vampires? Or angry spirits seeking to avenge their own deaths? Well, there's always room on my bookshelf for another one,
I feel the same way. I'm not sure why either. Kate's fellow Manga Bookshelf Battle Robot pilot David Welsh of Manga Curmudgeon returns, this time with the whole team to compile  a special Spooky Supplement the Favorites Alphabet. Melinda "And I'll form the head!" Beasi prefaces her pick with this:
When David suggested that we all pick favorite horror manga for this week, at first I thought I didn't have any. Though horror movies were a favorite genre once upon a time, that preference never really transferred to print for me, or at least I didn't think it had. Then I realized that some of my most beloved occult-themed comics fall closer to the horror mark than I thought.
Rob McMonigal's 10 Days of Horror at Panel Patter continues with another manga entry. This time it's a review of the first volume of the Yen Press title Raiders. I didn't really care for the opening volumes of this series, but Rob finds:
What I found when I started reading Raiders is that it's a fun, quick romp of a story with a premise that is ludicrous but somehow seems perfectly normal because the entire situation is over the top.
Over at Manga Village, Alex Hoffman and I take our He Said, She Said column to the spooky side as we look at the Shonen Jump title Nura: Rise of the Yokai Clan. We pretty much agree on our assessment of this title, with Alex putting it best:
For all of the above reasons, I really have no qualms with putting Nura back on the shelf. I don't really like anything about it. It's not the most egregious offender, but the sum of its collected bad parts makes a thoroughly unenjoyable read.
The Hooded Utilitarians have a double punch today with two articles from their Drifting Roundtable. Sean Michael Robinson starts off with his article "Adrift/ Cut the Cord" where he examines the relationships between the children and the adults, saying:
I don't think that any of these events are unique. Their ubiquity is the point—that, to a child, the world is a confusing, dangerous, and at first, unknowable place, and that an adult is a capricious monster capable of any manner of harmful, arbitrary action.
Richard Cook then takes up the torch with his article "Splashy: Drifting Roundtable" and looks at Umezu's use of splash pages:
It's a shocking moment because the violence is so sudden, bloody, and arbitrary. The splash magnifies the emotional impact, and by freezing the plot in that moment, it forces the reader to consider the logic behind the teacher's action.
Finally, I look at some of female mangaka who are well-known in the US for their horror manga.
Thanks for reading, and keep watching for Day 5!