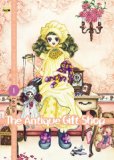 Wow, how oddly appropriate that I not only have week 13 of my Manga Wrap Up happen during a week with a Friday the 13th in it, but the title I read also dealt with bad luck and curses. I didn't think I would get through all ten volumes of Antique Gift Shop in one week. I thought I would have to break it up over two weeks. But it proved to be a hard title to put down, even if I didn't enjoy it all that much.
The Antique Gift Shop is about a girl named Bun-Nyuh Cho. She is the owner of said shop. In order to escape her destiny of becoming a shaman, she must sell all the antiques from her grandmother. She has one employee, Mr. Yang, a bishie beyond belief. Bun-Nyuh doesn't believe in the supernatural despite being good at telling fortunes and being able to see and hear spirits of the dead. She does believe in science and money. Because of her denial, she doesn't realize that all of the antiques in her shop are haunted. Mr. Yang does seem to know this, as he is always ready with some cryptic words to help sell an item, and is always around to help those he's sold items to, in order to help them out of whatever jam the spirit has caused.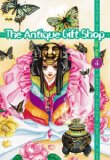 While this series is supposed to be about Bun-Nyuh, she doesn't actually do a lot, especially at the beginning. It is part-time employee Mr. Yang that does most of the sales and is involved with the antiques. Bun-Nyuh spends all of her time whining about having to sell the antiques, about how the store never makes any money and that the antiques always come back. She really is an annoying lead, and what probably makes the series readable is that she doesn't appear all that often. But I can't entirely blame her for her attitude. She has basically been deceived her entire life. Her grandmother, who essentially raised her since her own mother went insane never told her the truth of why she is destined to be a shaman, or why she has to sell all the antiques, or even who Mr. Yang is. After an incident when she was young, her grandmother basically deserts her in Seoul until three days later when a missionary friend of the grandmother tries to take her in.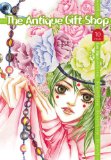 This series has a bit in common with Petshop of Horrors, with stories that show the antiques either helping or avenging their owners. But it doesn't pull off the irreverence that Petshop of Horrors had. It doesn't have that "gotcha" feeling, and the humor falls flat for me more often than not. It did have some good chapters. "The Fox Lantern", and "The Four Posts of Fate" are stories that I enjoyed. The final chapter "Door", has some good drama as well as a nice resolution for the antique. Otherwise most of the other chapters were hit or miss for me. I'm glad I read this series, it's just not a keeper.
Due to some damage to some of the books, I won't be giving this series to the library, but will be trading them instead. This next week I'm going to start on The Wallflower from Del Rey Manga. I have the first 15 volumes and haven't read a page of it yet. I am familiar with it since I've seen some of the anime, which is what prompted me to check out the series in the first place. I'll decide after I read it as to its fate. I'll also be preparing for the MMF next week, which is on the Viz Signature line. I've already read (and re-read) two volumes I will definitely review, and I hope to have time to squeeze a third.
The Antique Gift Shop Volume 1-10
Dorohedoro Volume 1
Bokurano Ours Volume 1