I'm working to get back on schedule after my 2 week manga break. I decided to take it easy and finish up a couple of Shojo Beat titles that I've only have the last few volumes left to read. Honey and Clover and Sand Chronicles are two titles I associate together, since they started in Shojo Beat very close together. I enjoyed reading both in the magazine, and decided to continue getting the volumes after the Shojo Beat was canceled. They both went 10 volumes, but I only have the ones starting after the end of the magazine. I'm only going to talk about Honey and Clover here, and will give Sand Chronicles its own review, for reasons that should become clear.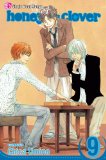 I had previously reviewed Volume 8, which I really liked. The unicorns that stood guard over Yamada's virginity were hilarious! And that was one of the things I really liked about Honey and Clover; it had its share of drama, punctuated with moments of humor. A lot of that light-heartedness disappears in these last two volumes. An event at the beginning of volume 9 really changes the tone, and most of the rest of the chapters revolve around resolving this one event. There is some tying up of loose ends. It's finally revealed why Morita needed all that money. Hagu finally resolves the Morita and Takemoto triangle by turning it into a polygon, and like most of the characters, I didn't see that turn coming.
I wouldn't say the story ended with a happy ending, but it was satisfying enough. I didn't feel cheated or that anything was left hanging. Relationships were resolved, or left unresolved as the case may be, as were the character's personal stories. This is the end of the a chapter in this particular group's life, and it made sense to end the series here as well. After following these characters for 8 volumes, you would think the coming end would elicit some sort of emotional response though the last two.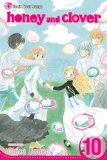 But to be honest, I didn't really feel anything. As I read through these last two volumes, I felt kind of "So, this is the end." After caring about these characters and following their stories for so long, I'm not sure why I felt so little about them going their separate ways. I think maybe it's because so much of the last two volumes focused on Morita and Hagu and not so much on the others. It was the ensemble cast that I really liked about this series, and not the individuals so much. When that interaction was lost, so was my interest. It was a good closing chapter on the lives of these young people. It just didn't affect me much. Would it also be heartless to say the whole situation with Hagu didn't really upset me? The whole thing felt contrived, and may have contributed to my lack of feeling.
Sand Chronicles is a completely different story. For good or for ill, that story has stuck with me much more than Honey and Clover. It has made me cry on more than one occasion, and for all that I decry melodrama, this is one melodrama that I will read again. This is why the final three volumes need a post of their own.
My next series will be Antique Gift Shop, a manwha from Ice Kiun/Yen Press. It's ten volumes and will free up a lot of space on my bookshelf, which I desperately need. I also have to find some time to read for the next MMF, which as just been decided to be on the SigIkki line from Viz. I have several volumes from that line that I've been meaning to read/review, and this is the perfect motivation to get me to do so.
Honey and Clover Volume 9-10
Sand Chronicles Volume 8-10
Yen Plus March 2012