In a city so dismal it's known only as "the Hole," a clan of Sorcerers have been plucking people off the streets to use as guinea pigs for atrocious 'experiments" in the black arts. In a dark alley, Nikaido found Caiman, a man with a reptile head and a bad case of amnesia. To undo the spell, they're hunting and killing the Sorcerers in the Hole, hoping that eventually they'll kill the right one. But when En, the head Sorcerer, gets word of a lizard-man slaughtering his people, he sends a crew of "cleaners" into the Hole, igniting a war between the two worlds.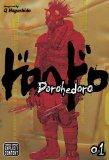 By Q Hayashida
Publisher: Viz Media
Age Rating: Mature
Genre: Fantasy/Horror
Price: $12.99
Rating:





I discovered Dorohedoro through the Sigikki.com site. I'm so glad it was put up there, because, based on the volume description, I would have completely bypassed this series, and that would have been a serious crime. While this volume does have violence and some gore, it also introduces some of the best characters I've read about in a long time.
The volume description makes Dorohedoro sound like a serious battle title, with Caiman and Nikaido hunting down and killing sorcerers and En and his sorcerers fighting back. It sounds like a slaughter fest, but that description is misleading. Caiman is searching for the sorcerer who changed him and killing any he finds. And En does call his best cleaners, Shin and Noi to put them on Caiman and Nikaido's trail, but that's all that's happened so far. This volume is more about introducing the world, the characters, and what they are capable of in a fight.
Of course, even if this title had more fighting, it still would be meaningless unless it had a good cast of characters, and Dorohedoro has them in abundance! I loved Caiman from the first page. The volume starts with a sorcerer's head in Caiman's mouth. It's a pretty dramatic way to introduce him, but it's soon shown Caiman isn't all about the drama. Unlike so many shonen characters seen nowadays, Caiman isn't dark or depressed about his situation. He makes the best he can of it and keeps a good attitude. He also has a healthy appetite, so it's a good thing Nikaido runs a restaurant. She's not only Caiman's meal ticket, she's his friend and partner. While Caiman is the excitable type, Nikaido is more calm and cool. She keeps her head in any situation, and is capable of taking care of herself. They make a good team.
Even the bad guys in this series are likable. Fujita, the partner of the sorcerer who is first seen getting Caiman's treatment is a lackey to En, the head sorcerer. Like all henchmen, he's a bit of a bumbler and has bad luck. He tries to do his best, and you can help but feel sorry for him. He really looks up to Shin and Noi, En's top cleaners. They are the efficient killers you expect them to be, but under their masks, look and act normal. I really enjoyed watching them at their dinner with En. Trying to read the menu, and looking for the expensive items since their boss was paying not only make them more human, but also entertaining.
What I really enjoy about Dorohedoro is the fact it doesn't take itself too seriously. While we do see Caiman and Nikaido continue the search for one specific sorcerer, just as much of the book shows them at work, and taking it easy. It isn't just about the fighting, it's about all aspects of the characters lives, and for me, that differentiates it from so many of the other titles out there. Dorohedoro deserves its mature rating with graphic fights that send body parts and internal organs flying, and a bit of swearing, but if you can get past those two things, you will be rewarded. I've enjoyed this volume even after multiple reads, and look forward to reading more.