Christie Holmes is a prodigy. At ten-years-old, she's as familiar with the sciences and classics as any older student at Cambridge or Oxford. And her facility with logic is reminiscent of her uncle, the eminent Sherlock Holmes himself. So, what's a brilliant young girl to do when her parents are away in India, leaving her behind in the care of maids and servants? Why, solve mysteries, of course. Along with her giant hound Nelson, Christie's implacable curiosity leads her from one dangerous adventure to another, often joining forces with Uncle Sherlock and Doctor Watson on their famed investigations. Christie may look pint-sized, but her clever mind is never to be underestimated!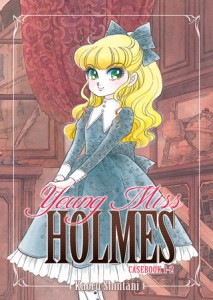 By Kaoru Shintani
Publisher: Seven Seas Entertainment
Age Rating: All Ages
Genre: Mystery
Price: $16.99
Rating:





I was really excited when I heard about Seven Seas' acquisition of Young Miss Holmes. I love mysteries and Sherlock Holmes, but have also lately acquired a taste for stories about female relatives of Holmes also solving mysteries. First, his sister Enola Holmes in novel form, and now his niece Christie.
Young Miss Holmes takes classic Sherlock Holmes stories and makes changes to them, mostly to add Christie to the story, but also to make other changes as well. The way Christie becomes part of the story varies. Either she is visiting her Uncle Sherlock and deduces what is going on such as in the "Mazarin Stone", or she stumbles onto a case the Sherlock is brought in on, such as "The Problem at Thor Bridge". Christie can find cases on her own as well, as in the "Red-Headed League", or takes on the whole case herself as she does in "The Adventure of the Dancing Men". Her inclusion is done very naturally, sometimes needing only minor changes. In "Mazarin Stone", instead of there being a dummy of Sherlock that he switches places with, Christie plays the part of a life-like doll and gets Sylvius' confession.
Some of the changes to the story itself include adding characters such as Arthur, the adopted son in "The Problem at Thor Bridge", and a slightly happier ending to "The Adventure of the Sussex Vampire", with the inclusion of real vampires in the guise of characters from the series Dance in the Vampire Bund by another creator, Nozomu Tamaki. This story is book-ended nicely with a short story by Tamaki herself.
Christie is just what you would expect from a relative of Sherlock Holmes. She is hyper observant and very knowledgeable in the sciences and classics. She has a strong will and stomach to go with it, and is willful to the point of being reckless. At times she wishes she was born a man and has little patience for other girls her age. She may be just as sharp as Sherlock, but she doesn't have the experience to put it all to use. Fortunately for her, she has Grace Dunbar as her governess. While there isn't much Miss Dunbar can do to further Christie's education, she still assists Christie by helping her look at things in a different way, such as there can be value found in girl's gossip, and her quiet demeanor calms Christie so she can think more clearly. She is like Christie's Watson.
There are two maids who often accompany Christie, Ann Marie and Nora. Ann Marie is the head maid and is Christie's Handmaid. She is the one most often put out when Christie goes on one of her adventures, but she also seems to have a temper and carries two revolvers, which she brandishes whenever Christie is threatened, leaving Christie to sometimes beg Ann Marie not to harm the perpetrator. Nora is another maid, and comes from the lower class. She can't read or write, and speaks with a lower class accent. She always carries a whip called the Snake Tongue, which she will whip out for any reason necessary. These traits are made all the more fun by the maids' appearances. Ann Maria appears very proper, but when she pulls her guns, she is far from reserved. Nora has an innocent look with freckles and curly hair, that turns done right demonic when she has her whip in her hands.
I really enjoyed this first volume of Young Miss Holmes. The characters are great, and the stories retain their Holmesian feel while adding a feminine touch. I also liked that Shintani kept the Victorian mores that restricted women so much at the time. Not only does Christie have the mysteries to solve, but she must also do it within the confines of Victorian society. I really enjoy watch females break through that barrier. The art is beautiful, and the dresses Shintani comes up for Christie are just as elegant as they are varied. The art is geared more toward a younger female audience, but that doesn't make it any less attractive. I had a lot of fun reading Young Miss Holmes, and anyone who loves mysteries and/or Sherlock Holmes will love it too.