Chibi Vampire is a title I ended up really enjoying. So, after finishing the series, I picked up the two spin-off volumes that came out after the title finished publication here in the US; Airmail and Bites. While both return you to the world of Karin and her family and friends, they do have their ups and downs.
Chibi Vampire: Airmail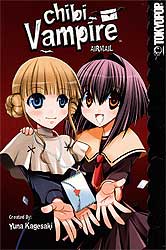 By Yuna Kagesaki ♦ Tokyopop ♦ Older Teen ♦ Comedy/Horror ♦ $10.99 OOP
Rating:





Airmail is a short story collection that features stories that either take place in the Chibi Vampire world, or are side stories to the main series. There are four stories as well as several 4-koma strips Kagesake did of her trip to Seattle as a guest at Sakuracon. The stories include "Reverse Babysitting", "Searching for My Beloved", "The Vampire of the West Woods" and "Maki-chan, the Helping Angel of Love."
Of the four stories, I enjoyed "The Vampire in the West Woods" the most. It takes place in Europe, and is about Friedrich Marker, a vampire and hereto unknown cousin to Karin and her siblings, and his friendship with a nun, Sister Rosary. The relationship between Friedrich and Sister Rosary is really sweet. It starts when he confesses to being an otaku, and then he shares his love of manga with her. He comes up to visit her a couple times a week, bringing a new volume of their favorite manga series. He has an ulterior (but pure) motive for being close to Sister Rosary so much, and it ties in to the main story very well. "Searching for My Beloved" was a nice mystery featuring a fortune-teller, Carolina Haruko, as she helps a boy find his missing girlfriend. The story has a nice twist, with a creepy murderer and supernatural ending. "Reverse Babysitting" was okay, and "Maki-chan" tied in nicely with a look at Karin and Kenta after the series ended, but they didn't do much for me otherwise. I did really like the 2 page bonus at the end of "Maki-chan", "October Illusions" which you will only understand if you have read the series.
Kagesaki's 4-komas about her time at Sakuracon were really fun. It's interesting to see the observations of someone going to an anime con for the first time, and an US one at that. Her reaction to being invited as a guest was funny and often typical of mangaka who learn of their popularity in the US. I also liked her reaction to cosplayers and to a question at her panel.
Airmail is a fun read, and a great addition to any Chibi Vampire fan's library. New readers will probably enjoy this volume as well, but might not get some of the side and bonus stories.
Chibi Vampire: Bites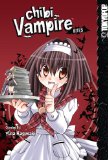 By Yuna Kagesaki ♦ Tokyopop ♦ Older Teen ♦ Comedy/Horror ♦ $10.99 OOP
Rating:





Bites is a fan book for Chibi Vampire. It features character profiles, sketches, top 10 scenes and more from all the mediums Chibi Vampire has been made into; manga, novels and the anime. Having read the manga, the character introductions were more refresher, but the ones that featured characters from the novels and anime I found to be very interesting. Reading through them, and the top 10 love, transfusion and trouble scenes really made it clear just how rich the world of Chibi Vampire was and how much was added through the novels. There is a map of Shihaba city with details of important places and moments as well as a look at some of the mysteries of Karin and the vampires. Scattered throughout the volume are sketches for the manga and novels, and a whole second on designs for the anime. There are even some fun games, such as a chart to tell which vampire your blood my be appealing to, and a bonus story from the novels.
Bites is a good volume for both old and new readers. It has a lot of details, and by covering more than just the manga, may even converts those who like just one medium to try out some of the others. The only thing that I was disappointed about in this book was that it didn't seem to cover anything past volume 8. And all the really good stuff happens from that volume on. I was really hoping for some insight from Kagesaki about Karin and what she is. The story moves so much more from volume 8 on, I really would have liked more about that. Another thing that would have been nice to include was something about the differences between the manga and the anime. While the novels fit well into the manga universe, the anime is a completely different anime. More on that and how the story came about would have been interesting.
Bites is nice for the hardcore Chibi Vampire fan to have, but you wouldn't be missing anything if passed on it. If you like cross-medium titles, this is a good look at what you might be in for if you took a look at the novels or anime, but it really doesn't add much to the story or give any real insights that just reading the manga would give you.