It was love at first sight. the moment Hee-So's eyes met Won-Jun's she knew it was meant to be. Their relationship took off when Hee-So confessed her feelings on national TV, but less than a month later, Won-Jun is ready to call it quits without any explanation at all. Hee-So's had a lot of boyfriends–Won-Jun is number twelve–bu being dumped is never easy. She not ready to move on to the thirteenth boy just yet. Determined to reunite with Won-Jun, Hee-So's on a mission to win over her destined love once more.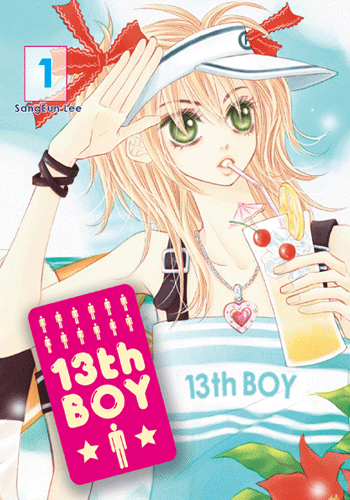 By SangEun-Lee
Publisher: Yen Press
Age Rating: Teen
Genre: Romance
Price: $10.99
Rating:





I read the preview of 13th Boy in Yen Plus why back when it first came out, and wasn't impressed. I thought it was going to be another "stalker girl" title like Sarasah, which I hated. But with being given a second chance to read the first volume, I decided to give it a shot. And like Won-Jun to Hee-So, I don't hate it, but I don't know if I like it yet.
13th Boy is not your average high school romance. It starts out like it might be. Hee-So, is the earnest, sometimes blunt girl madly in love with a cute boy in her class, Won-Jun, who comes off as cold, and almost robotic. For a few moments, I thought maybe he was one. But things quickly go askew when Beatrice, Hee-So's walking, talking cactus is introduced. Yes, I said walking and talking. I don't know what's stranger, that Beatrice can talk, or that Hee-So takes it so calmly. There's no explanation for what Beatrice could be, but the end of the volume hints at something supernatural. And then there's Won-Jun's best friend, Whie-Young Jang. He comes off kind of jerky, but there more to him than he seems. He can do magic. He's shown levitating a book and makes his and Hee-So's legs disappear so some classmates won't see them.
I wasn't expecting a supernatural element to this story. It started out like a typical high school romance with a weird mascot character, but there seems to be a lot more going on. The idea that there is a destined love for everyone is strongly emphasized in this volume. Hee-So is banking on Won-Jun being hers. And for all the scoffing Whie-Young does about it, I get the feeling he might think the same of Hee-So to him. The last scene with Won-Jun and Whie-Young sets up the love triangle, which seems to be destined to be a bumpy ride for all three of them.
While I wasn't wowed by this first volume of 13th Boy, I am intrigued enough to be willing to check out more. I didn't hate it as much as I thought I would, and while I don't care for the stalker-obsession that manhwa seems to favor for its female leads, the integration of a destined love at least lessens the impact.