Miko is a shrine maiden who has never had much success at seeing or banishing spirits. Then she meets Kagura, a sexy demon who feeds off women's feelings of passion and love. Kagura's insatiable appetite has left many girls at school brokenhearted, so Miko casts a spell to seal his powers. Surprisingly the spell works–sort of– but now Kagura is after her!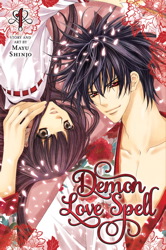 By Mayu Shinjo
Publisher: Viz Media – Shojo Beat
Age Rating: Older Teen
Genre: Supernatural Romance
Price: $9.99
Rating:





I had completely missed the license announcement for Demon Love Spell, so it came as a complete surprise when I saw it. I've only ever read one other volume by this manga creator, Ai Ore!, and had a sort of love/not-love thing with that volume. After reading this volume, I found I had the same feeling for this volume as well.
Demon Love Spell is about a demon, an Incubus, who is bound by bumbling exorcist who can't even see the spirits she is trying to exorcise. With his powers diminished, he has to stay with her until she can figure out what spell she used to bind him. Because he was a powerful demon, both of them become targets to other demons that want to defeat him and eat her. They must grudgingly work together to survive.
I started reading this title without making any connections to who the creator was, and as a result has hopes this wouldn't be too bad. And it's not bad per se. It just isn't my kind of series. The first warning bell came from Kagura with his leering eyes and seductive manner. Granted, he is an incubus and he's supposed to be seductive, so I can't fault him or the series for that. But what it gave me was a serious "Black Bird" vibe. I found the sexual innuendo in that series to be creepy and got the same feeling while I was reading this one.
A lot of that feeling stems from the similarity between the female protagonists. Both Miko and Misao are kind of clueless and easily manipulated by their respective supernatural "suitors." While Miko is more defiant during the day, Kagura uses her dreams to get what he wants, and her dream self is much more willing and submissive than her conscious self. Miko is also innocent in the ways of the heart and is often vulnerable to Kagura when he tries to seduce her. I don't find Kagura to be very likable either. Even in his "cute" form, when he is bound and the size of doll, he's pervy and really not that cute. His favorite hiding spot on Miko is of course between her breasts.
All the innuendo aside, Demon Love Spell does have some good points. Miko isn't completely defenseless. She may have to relay on Kagura for some of the more powerful demons and to see them, but that doesn't stop her from trying to exorcise them herself, and she doesn't run or cower when confronted with danger. Kagura, for all his sleaziness, does seem to have some real feelings for Miko. He doesn't appear to just be using her, and the feelings they are developing for each other seem to be happening at the same time. I appreciate this approach more than a one-sided relationship developing. I also really liked the fox spirit that was introduced at the end. He is cute in both his animal and human forms.
Demon Love Spell was an okay story, but not a keeper. The chapters seem to balance battling demons and Miko and Kagura's relationship well. I have no complaints with the art either. The bishi are appropriately bishi and demons are appropriately scary. As I said earlier, the story isn't badly written, it just isn't written for me. This is a title more for Black Bird and Vampire Knight fans, of which I am really neither. I won't follow this title regularly, but I won't object to the occasional check in.
Review copy provided by publisher.