The Public Morals Club has been infiltrated by the Student Council as ninja Yui joins the club to spy on them. But with his reasons for switching being done in secret, not everyone on the Student Council is as understanding. It could be the end of Public Morals Club if the club can't get a stamp of approval from the Student Council Auditor. Then a member of the Student Council, Ayabe challenges Mafuyu to a one-on-one battle, where the unthinkable happens. Mafuyu loses.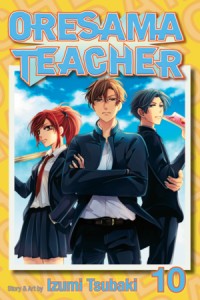 By Izumi Tsubaki
Publisher: Viz Media – Shojo Beat
Age Rating: Teen
Genre: Comedy/Romance
Price: $9.99
Rating:





It's been 5 volumes since I last read Oresama Teacher. I've enjoyed the series for the most part, but I've never been so enamored that I wanted to do anything more than just read it. These two volumes fall into the same category. A lack of Takaomi and more emphasis on Mafuyu, Hayasaka, and new club member Yui did make for some fun reading, but not enough to bring the series up that extra notch.
Yui has been having trouble gaining the trust of Mafuyu and Hayasaka, and with the club needed the stamp of approval from the auditor, this seems like the perfect opportunity to get it. The only obstacle is Wakana Hojo, the auditor who isn't too happy with Yui's  apparent defection. I liked the Auditor story a lot, mostly because of Hojo and Yui and the unspoken feelings between them. Hojo and Yui have known each other since Middle School, and Hojo has liked Yui, but Yui is completely clueless about his own feelings let alone Hojo's. It takes Mafuyu verbally hitting Yui with a 2×4 for him to at least start to understand that everything is not black and white, especially when it comes to feelings. Hayasaka also turned out to be the hero of this volume as his studious ways allowed him to create an activity log for the club that, along with the arrival of Super Bun gets the club their stamp.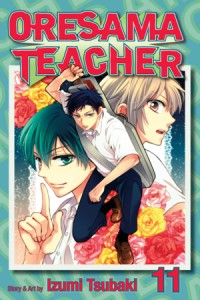 Then, Mafuyu is challenged by Reito Ayabe, another member of the Student Council, and loses. It's her first time losing, as far as she can remember. This was my favorite chapter in volume 11. Seeing Mafuyu shaken up and trying to deal with her loss was a good development for her. She had to stand up and face her fear. Ayabe seems like a jerk at first, but Mafuyu has a habit of disarming people, which she does to him over lunch where she finds his home cooked meal so much better than her convenience store lunch. Their second battle goes differently, as Mafuyu continues by telling him she just wants to get to know him, and wins through words instead of force. I hope Ayabe becomes a friend to the Public Morals Club. I rather like him and his odd affliction.
The short chapters that precede or end the main chapters weren't bad either. I enjoyed seeing Hojo's past with Yui and Hayabusa, the Student Club President that explains her feelings for Yui. And the Christmas chapter with Hayasaka and Mafuyu as Super Bun was fun too. I like that Hayasaka sees Super Bun as a hero and bud, and not a romantic figure. Hayasaka's hero worship of Super Bun is too funny,and it would get really weird if it went anywhere else.
The one think I didn't care for in these volumes are the continued hints that there might be feelings between Mafuyu and Takaomi. Mafuyu blushes deeply when Takaomi tries to put her hair in a pony tail to help her Super Bun disguise. Then Takaomi lets his guard down slightly when he tries to wrap Mafuyu's arm after her fight with Ayabe. I really dislike Takaomi's manipulation of Mafuyu and find him repulsive. Mafuyu really deserves better than him, and has better suitors in Hayasaka, and her old 2nd, Kangawa.
Oresama Teacher manages to pull off to fun volumes, but their re-readability is too limited for me to let them take up precious bookshelf space. As fun as they are, the characters aren't compelling enough despite Mafuyu and Hayasaka being a good couple to watch.
Review copies provided by publisher.