After twenty years of searching, Celty, the headless black rider, has at last found her missing head bobbing through the streets of Ikebukuro on someone else's neck! Though Celty prsues, the girl escapes on the arm of Mikado Ryuugamine, taking refuge in his apartment. Both the legendary rider and Yagiri Pharmaceuticals come bearing down on Mikado and the scarred girl. But when Yagiri crosses the line, the true leader of the Dollars steps forward to take command of the vast network of members at his disposal. though this unobtrusive boy holds a disturbing degree of power in the palm of his hand, Celty is preoccupied by the powers that still control her head. At the end of the day, will her search all have been for naught? Or has she found something even more precious along the way?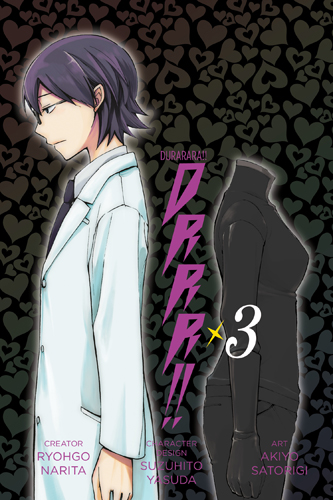 Story by Ryohgo Narita; Art by Akiyo Satorigi; Character Design by Suzuhito Yasuda
Publisher: Yen Press
Age Rating: Older Teen
Genre: Action/Supernatural/Romance
ISBN: 9780316209328; 9780316209335
Price: $12.99
Rating:





With such a large cast, it's hard to believe that these last two volumes of Durarara!! could tie everything up easily, but that's precisely what it does. All of the relationships are resolved (for the moment), and characters' secrets are revealed. Some are surprising while others aren't so much.
There are at least three different relationships going on in Durarara!! We really get in the mind of Celty (can't really say head), as she really starts to consider the ramifications of getting her head back. Fear of death, and her, a Dullahan, being in a relationship with Dr. Shinra, a human, really shake her confidence. Shinra, who is usually just being a jerk, is surprisingly understanding with Celty. He shows some real tenderness and affection for her, but also deserves the punch in the face she gives him. But, in the end, Celty is happy with her situation, and not so obsessed with finding her head. Which might not be such a good thing as well learn late on.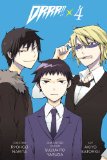 Seiji Yagiri gets what he deserves as the head he believes is his "soul mate" turns out to not be what he expected. He really needed the beat-down that Shizou gave him about it. His "pure love" proved to be nothing more than skin deep, making him easily fooled, and well deserved of the one who now has the face of his "soul mate." I did enjoy the scene of them together at the end, pretending to like each other, but each still having their own agendas. Perhaps he really did find his soul mate. Even Mikado got a start on his relationship with Sonohara. They had the typical "too shy to admit their feelings" relationship throughout the series, but by the end, Mikado finally got up the courage to ask her out, but not before kicking Masaomi for trying to horn in on her first.
Most of the mysteries presented in the series were resolved by the end. Who started the Dollars and why is revealed, and its leader was a complete surprise to me. I was also surprised by Shizuo. I started out not really caring for him, but his actions in these last two volumes really warmed him up to me. His archenemy Orihara wasn't so surprising his motives. He's always seemed to be a dark character, but his true ambitions aren't revealed until the end. They are quite grand, and involve Celty's head. His theory about Dullahans is interesting, but his intend working from that theory isn't good for Ikebukuro or its inhabitants.
While Durarara!! started out slow for me, I ended up really enjoying the series. What really helped is how the characters were developed over the four volumes, and became either people I liked or who got what they deserved. Durarara!! is based on a series of light novels, and I would love to see more manga adventures with these characters. There are 11 novels to pull from, and the manga ends really feeling like that could be more. And Yen Press has answered my unspoken prayer as Durarara!! Saika Arc is scheduled to begin in March. I can't wait now! Durarara!! turned out to be a fun ride that is definitely worth reading, and might be worth keeping.