Ding-Dong! Dead-Dong! Class is about to begin, and you don't want to be late on your first day of school! Join Tsugumi Harudori in the "NOT" class at Death Weapon Meister Academy, a school dedicated to training transforming weapons like Tsugumi and the Meisters who will wield them. Many "NOT" (Normally Overcome Target) students aspire to join the elite "EAT" (Especially Advantaged Talent) class, but it may take Tsugumi some time to find her confidence — and a partner — at this crazy school!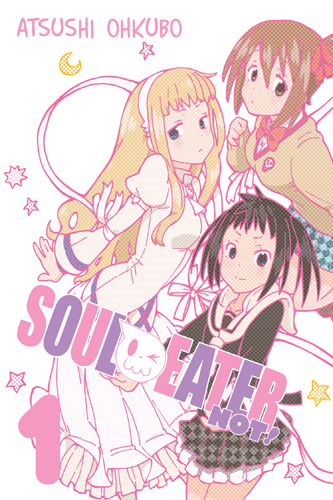 By Atsushi Ohkubo
Publisher: Yen Press
Age Rating: Older Teen
Genre: Slice-of-Life/Fantasy/Action
Price: $11.99
Rating:





Soul Eater NOT! is a spin-off series of another Yen Press title, Soul Eater. Soul Eater was a debut title for Yen's manga magazine Yen Plus, starting its US serialization there. I didn't care for Soul Eater, so I wasn't sure what my reaction to Soul Eater NOT would be. I was pleasantly surprised by the slice-of-life story, that moved a slower pace and had some likable characters. Not interesting, just likable. If the characters weren't used for mostly fan service, I would like this title a lot more.
Soul Eater NOT! starts by introducing Tsugumi Harudori. She is just starting at Death Weapon Meister Academy, in Death City, Nevada, United States of America. She has the ability to turn into a weapon, which is a genetic mutation one is born with. She has come to DWMA to learn to control her power and live a normal life. Tsugumi is a plain, rather dull, and indecisive girl. On her first day she meets two meisters; Meme who to say she has short-term memory problems would be an understatement and Anya, a upper-class European girl who wants to see what the "common people" are like. Both girls want to partner with Tsugumi, but she just can't decide, so the three of them live and work together until a decision is made. Meanwhile, a witch is at work within DWMA, experimenting on people, and Tsugumi, Meme and Anya always seem to get involved with the situations some how.
The three main characters, Tsugumi, Meme, and Anya are all fairly likeable characters. At least, there's nothing annoying about them. Tsugumi is an average teenage girl whose only remarkable trait is how unremarkable she is. She wants to become stronger, like Maka, a Weapons Meister who she meets on her first day, and is a main character from Soul Eater. Tsugumi puts her hair up in pigtails to emulate Maka, but the look doesn't work for her. I liked Anya a lot. She tries to be so aloof, but really wants to be included in the things Tsugumi and Meme do. Her modesty over the cafe uniforms was cute. I didn't like that she never got to pair with Tsugumi. She would make a better partner for Tsugumi, as she proves when she uses Tsugumi in fight. Meme is the closest to an annoying character this title has. Her inability to remember simple things gets annoying fast. She only seems able to fight efficiently when she is sleep walking. Her only real purpose seems to be for fan service. She has the largest chest of the three girls, and is always slipping into bed with Tsugumi. I really didn't care for this aspect of the title at all.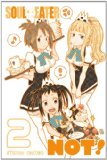 I liked a lot of the supporting characters too. Eternal Feather is a year ahead of the girls and is very helpful and sympathetic to them when they become prey of the "witch of the girl's dorm", Kim. This makes what happens to her at the end of volume two really sad. I liked Kim too, with her tsundere ways. She acts tough, but really has a kind heart. I also really liked the Master of the Death's Back Cafe where the girls work for money part time.I'm not sure what to think of the two boys in their class, Akane and Clay. Even though they are in the NOT class, they seem to be working to get into the EAT class. They are working with their teacher Sid to weed out witches which may be hiding at the academy.
And there is definitely one running around. This is more of a subplot to add some action to the otherwise slow-paced slice of life that Soul Eater Not usually is. The girls aren't actively involved with hunting the witch, but they always seem to be around when the witch is making a move. While this part of the plot hasn't taken over the story, I hope it stays that way. What I like most about Soul Eater Not is the slice of life stories following the girls around school and interacting with the other characters in their dorm and that they meet in town. As long as the story stays that way, and the witch plot stays in the background, I'll be happy.
Soul Eater NOT is a better than average title, and while it does have some fan-service-y moments, they aren't as bad as they could be. The characters are quirky enough to be likeable, but not really memorable. As long as the story stays on the lighter side, it will continue to be a fun title to read and enjoy.