Along the nineteenth-century Silk Road, Amir Halgal, a young woman from a nomadic tribe, is betrothed to a twelve-year-old boy eight years her junior. Coping with cultural differences, blossoming feelings for her new husband, and expectations from both her adoptive family, and her birth family, who now wish to see her wed to another, Amir strives to find her role as she settles into a new life and a new home in a society quick to define that role for her.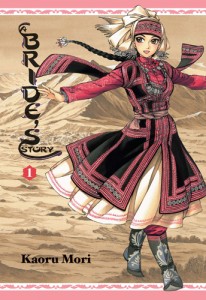 By Kaoru Mori
Publsiher: Yen Press
Age Rating: Older Teen
Genre: Historical/Slice of Life
ISBN: 978-0-316-18099-3/978-0-316-19446-4
Price: $16.99/ea
Rating:





I remember when this title was first announced and how excited people were to get a new Karou Mori title. Having not read anything by her at the time, I didn't see what the excitement was about. But after hearing some discussion of the title, I decided to check out the first volume. I absolutely loved it, and had to buy volumes 2 and 3 immediately afterward. The charming characters and immersion into 19th century Central Asia was a delight to read.
These volumes start by introducing Amir and her young husband, Karluk Eihon. They first meet on their wedding day, and while both seem surprised at seeing the other, both also accept each other. Many of the chapters show their everyday life, with Amir showing Karluk's family, now her family, her way of doing things, while she learns theirs. There are also stories about other members of the Eihon family, and the Eihon's nomadic relatives. Also introduced almost immediately is the stirring trouble with Amir's birth family, who have decided they need her back since her younger sister, who was married off to another tribe, died and they will lose the grazing land they got in the deal. This leads to an armed conflict between the two families, as well as some between Amir and Karluk.
I absolutely loved Amir and Karluk from their first introduction. I adore Amir and her enthusiastic and earnest personality. She can be impulsive, such as when she jumps up to hunt rabbits immediately when she learns the Eihon family hasn't had rabbit stew before. When given a gift, she feels the need to return the favor and proceeds to shoot down a bird to exchange. She is dedicated to Karluk and treats him like an equal and not a child. Karluk in turn tries to be a husband to her, but still has some problems with being intimate with her. When they are sleeping together in the Yurat while visiting Karluk's Uncle, he feels more like a child with his mother than man and wife. He proves himself though when he defends Amir from her own father when the Halgal family try to take Amir back by force. He takes his duties as husband seriously, trying to protect her from danger. They make a really cute couple.
The supporting characters are great too. Seleke, Karluk's older sister, tries to be strick with her four children, but ends up doting more. Their parents are kind and supportive. I loved Balkirsh, the grandmother and matriarch of the family. She doesn't meddle in the affairs of other family members, but will step in when necessary. She diffused the confrontation between Amir's brother and her grandson-in-law, and was able to get Amir to rest while Karluk was sick with a cold. She's feisty, and doesn't mince her words. And then there's Mr. Smith, an Englishman living with the Eihons. He is an anthropologist, studying the life and culture of Western Asia. He is constantly asking questions about customs in the village, or for help with translating documents he has found. He is played a lot for comedy relief.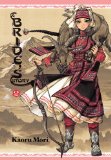 Mr. Smith and to some extent Amir, is also used to show the culture and customs of the area. Amir, who has come from a semi-nomadic tribe, has a lot to learn about town living. One of the biggest is that the townspeople are much more modest. Amir is constantly causing a stir, such as when she misunderstands Mother and thinks she must clean her clothes and runs out in her underwear. Amir's hunting skills fascinate the townsfolk, as she hunts rabbits from horseback and brings back deer. The children become fascinated by her bow, and soon she is teaching them how to use it. Through Mr. Smith, more general cultural elements are explained. The importance of embroidery and cloth for dowry is shown in detail, as is entertaining. The townsfolk try to compete to entertain the messenger who bring letters for Mr. Smith.
Because this is "A Bride's Story", a lot of focus is put on the women. There is the impression that women are seen as nothing more than property, especially when Amir's family tries to reclaim her, and the Eihons counter that they have no claim. But it's not like the women are treated poorly or without rights. Balkirsh commands a lot of respect, even from Amir's brother when he first comes to reclaim Amir. And as is shown with Amir, they can be hunters and herders, and not limited to the household. I don't see the arranged marriages as a way to control women, but as part of the complex social structure passed down through the generations. Compared to European women of the time, the women of western Asia had a lot more personal freedom.
The art is just exquisite. The detail that Mori puts into the clothes and rugs is amazing. The costumes are beautiful and varied, reflecting their different origins. It's not just material that is so ornate. Wood carving and even the making of bread is shown to be decorated with beautiful designs, and their creators are shown to put great care into their craft. I loved the chapter with the carpenter, and the time he spends creating ornate doors and posts. I also love the wide-eyed expressions that both Amir and Karluk have. It makes Amir's enthusiasm all that more infectious, and Karluk just looks cute, even when he's trying to be heroic.
I can't say enough good things about this series. I loved it from cover to cover, and it just gets better with every re-read. Amir's story is funny, exciting, and touching. A Bride's Story is one of the best series you will read, filled with great characters, fun slice of life moments and charming characters that you will never want to leave. It's a great investment of both time and money.