In Victorian England, a young girl named Emma is rescued from a life of destitution and raised to become a proper British maid. When she meets William, the eldest son of a wealthy family, their love seems destined. But in this world, even matters of the heart are ruled by class distinctions.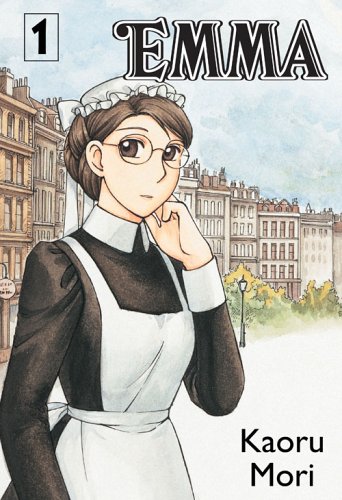 By Kaoru Mori
Publsiher: CMX (OOP)
Age Rating: Teen
Genre: Historical/Drama
ISBN: 978-1-4012-1132-5
Price: $9.99
Rating:





I didn't expect to like Emma. I have a split track record with Kaoru Mori's work. I loved A Bride's Story, but wasn't impressed with her short story collection Say Something and Anything, especially the maid stories. But as I started reading, I couldn't help being enchanted by the charming characters she populates the series with, and sets up so simple an obstacle, but it still seems just as insurmountable.
Emma starts with the unceremonious meeting of Emma and William, the former student of Kelly Stownar, who was William's governess, and is Emma's employer. William is immediately smitten with Emma, which Kelly picks up on, while Emma seems not to notice. But William is not the first or only man to be drawn to her, as the pile of love letters she receives shows. Even Prince Hakim, William's friend from India is taken by her charms at first glance. This first volume introduces these main players, and gives a little insight into who they are.
I absolutely loved every character in this volume. There isn't a single one that I found annoying or dislikable. William is wonderfully nervous around Kelly, and a little over-excitable when he's around Emma. Emma herself comes off rather innocent, or naive. While she is able to turn down most of her would-be suitors, William elicits a blush from her. I loved Kelly, who seemed to take great joy in making William feel uncomfortable with her memories of his childhood, but didn't discourage his interest in Emma. Hakim brought a lot of comedy, with his elephants marching through London, or his motorcar whizzing around the inside William's house. I also loved his Indian women attendants. Their expressions never change, whether they are draped over Hakim or driving the motorcar, they are always straight-faced, almost bored-looking.
The introduction of William's father, Mr. Smith, also introduces the main conflict of the story. In order for William and Emma to be together, they must not only overcome class distinctions, but also the attitudes of the people around them. Kelly doesn't have a problem with Emma marrying up obviously. She seems to be encouraging their relationship. It's William's father, and his other family and friends that will be the biggest obstacle to their budding relationship. Mr. Smith makes his feelings very clear at the end of the volume about the relationships between classes, describing them like people from two different countries who just happen to speak the same language.
Because of Karou Mori's obsession with Victorian England, this title is filled with historical details. From the fireplaces and wallpaper in the homes to the clothing of both the men and women, reading Emma is like watching a BBC historical drama. I've never been a fan of the Victorian era, but I love Mori's depiction of it. The men in their suits and hats and the women with their hair done up and their long dresses and ball gowns, I love the look of them all. But most important was the attitudes and beliefs of the people at them. Mori really gets these, from the working class grocer who doesn't see the worth in his daughter going to school and learning when she will just get married, to Mr. Smith's constant harping on William about proper manners. Social etiquette was a big deal to the upper class, as they saw it as one of the things that separated themselves from the lower classes. Having good social graces was just as important as one's family and blood line. Mori really seems to get this, and isn't just using stereo types to portray the classes.
This first volume of Emma was an engrossing read that just makes me want to read more. I'm really glad this MMF gave me an excuse to read it. Of course, the problem with reading the first volume of a hard-to-find OOP series is that if you turn out enjoying it, that means finding  the rest of the series will be like pulling teeth. The volumes will tend to be difficult to find or worse, very expense. An incomplete set of the series just recently sold on eBay for $135.00! This is probably the only bad thing about the entire volume that I could find. And with Jmanga ending their service, the chances of seeing this series in print again is very unlikely. Unless Yen Press, who has published two of Mori's other titles, sees some worth in. Though Yen Press has done some license rescues lately, I'm not holding breath for this one, which is really a shame.