Researcher Mr. Smith has left the Eihon family and is on his way to Ankara. As he awaits his guide in a village, he meets the widow Talas, but his honorable intentions toward her are not seen that way by her uncle who has his own plans for her, and lands the Englishman in jail. Rescued by some familiar faces, his journey takes him through a fishing village along the Aral Sea, where a pair of twins are plotting to land themselves some rich, healthy brothers as husbands.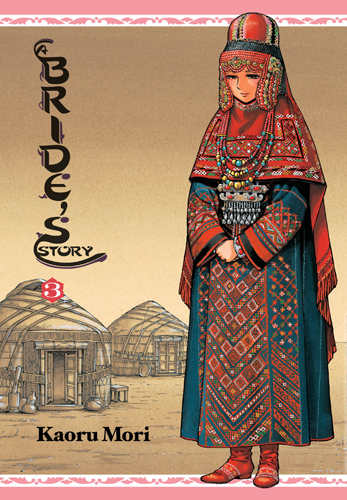 By Kaoru Mori
Publisher: Yen Press
Age Rating: Older Teen
Genre: Historical/Slice of Life
Price: $16.99
ISBN: 978-0-316-21034-8/978-0-316-23203-6
Rating:





These two volumes of A Bride's Story leaves Amir, Karluk and the Eihon family behind, and follows Mr. Smith as he travels across the desert on his way to Ankara, where a colleague waits for him with an item he's been searching for. We meet two different kinds of brides in these volumes, the five-time widowed Talas and the over-eager twins Laila and Leily. While I still enjoyed these volumes, the new characters didn't grow on my as much as the Eihons did in the first two volumes.
Mr. Smith gets the spotlight in volume 3. After arriving in the village where he is to meet his guide, he meets a young woman, Talas. She offers to put him up until his guide arrives. She and her mother-in-law have been alone for a while, after the death of five sons and the father. Talas thinks having Mr. Smith stay will make her mother happy. I liked Talas. She was quiet and unassuming; the  opposite of Amir in a lot of ways. She's had a hard life, going through so many husbands so quickly without ever producing an heir, but she bears it all with a quiet strength. Her mother is much the same, having lost 5 sons and her own husband, she continues on alone, thinking only of Talas' happiness.
Mr. Smith becomes caught in the middle of this, as the mother tries to get him to take her as his bride. It's interesting to see him struggle with what to do. He doesn't have a wide emotional range, and often has a bewildered look on his face, except when he has learned some new cultural aspect. When he finally comes to a decision, the circumstances change on him. The change shows how different betrothal and marriage is treated between Europeans and the Western Asians, and the importance of a father in a woman's life. Even when it is explained to him, he doesn't seem to fully get it. He doesn't show any emotion about it until he is alone, and a single act shows his disappointment.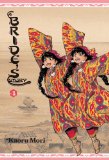 In volume 4 we don't see much of Mr. Smith, as his arrival in the seaside town causes a stir when his cover story of being a doctor has him overwhelmed with patients from all over the area. This leaves the story open for trouble-making twins Laila and Leily. The two girls are determined to get husbands, and spent most of the volume plotting ways to get them. I really didn't care much for the twins. They bordered on obnoxious for me. But their story gave an excuse to concentrate on the women's side again. Laila and Leily were recounted with stories from the older women of how they found their husbands and the tricks they used to land them. And when husbands are found for the girls, their mother has to give them whirlwind lessons in being proper wives, teaching them cooking, cleaning and sewing.
I still enjoyed this series. The cultural aspects shown in every volume are fascinating. In these two volumes we see the importance of being generous and hospitable, as an impromptu meal becomes an event to be shared with. We also get a glimpse on being a groom, as Mr. Smith's guide, Ali, explains why he took the job even though it was dangerous. He wants to take a bride, but has to come up with the betrothal money himself since his family is poor. So far, we have only been seeing that the bride's family has to do, and haven't heard much about what the groom must do as well. Information on the wedding preparations start to get more in-depth as Laila and Leily's wedding approaches which of course, will delay Mr. Smith who will want to stay and see an actual wedding.
While my enthusiasm cooled a little over these volumes, volume 4 mostly, I still love it. The cultural details that Mori is able to present in the story without it feeling like a lesson is great. This series could easily be used as a teaching aid for the time period. And of course her meticulous art continues to delight. The different costumes she used for the different regions are just beautiful. I'll continue to give this series my highest recommendation, because, personal feelings or no, this is still one of the best series you will ever read.