Kaya Satozuka prides herself on being an excellent secretary and a consummate professional, so she doesn't even bat an eye when she's re-assigned to the office of her company's difficult director, Kyohei Tohma. He's as prickly-and hot-as rumors paint him, but Kaya is unfazed…until she discovers that he's a vampire!!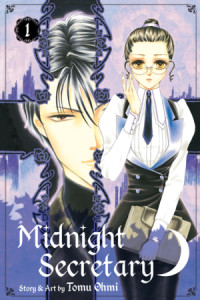 By Tomu Ohmi
Publisher: Viz Media
Age Rating: Mature
Genre: Romance, Josei
Price: $9.99
Rating:





I'm picky about the vampire romances I read. Most I've read have been hit or miss. I hated Vampire Knight, but loved Millennium Snow. What sparked my interest most about Midnight Secretary was that it was a josei, a manga written for older women. It features not a high school girl, but a career woman and all the problems that come with working in an office. This part appealed to more than the romance.
Well, maybe. I'm not really sure how I feel about Kaya and Kyohei as a couple. As separate people, I can see why they think and act as they do. Kaya is very smart and capable, and doesn't want to be judged based on her appearance. This is exactly what Kyohei does at first, but she proves to him that looks aren't everything. Even after she learns his secret, she doesn't flinch or back down from her work, which is what gets her into the compromising situation of starting to have feelings for him.
Kyohei starts off as an obnoxious jerk, and really doesn't veer from that course. He is a vampire forced to live in the human world because of his mother's decision to stay with his father. He is bitter about this and takes it out on everyone around him. It's not right, but it is an understandable thing to do. He refused to admit he cares for any humans, and gives his brother, the Senior Director Masaki a hard time, but does show he cares. He chastised his brother for being soft, and tells him to learn to use people since he will lead the company someday. Kyohei does the "dirty work" so Masaki can keep his hands clean. He's rude and cold, but cares in his own way.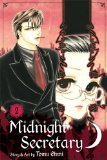 Usually I like romances where one or both of the partners have a bit of a "bite" to their personality. I like more banter and snarky remarks flying back and forth, but that's not really what happens here. Kyohei is more abusive of Kaya, dismissing her coldly and leaving her to think of her own reasons for his actions. I did like that both had to discover their feelings for the other, especially Kyohei. He couldn't believe he would have feelings for a human, but a frank conversation between he and Kaya did finally get him to admit his desire for her blood had more to do with his feelings than he thought. I'll admit, I'm still waffling on them as a couple. I'll have to see what happens in the next volume.
One thing I really appreciated was how Kaya's job as a secretary wasn't dismissed as simple or fluff. She is seen not only keeping Kyohei's appointments, but also organizing the materials he needs for meetings and even accompanying him to outside functions such as dinners. Kyohei appreciates her work and skill, respecting her professionally before things start to get personal. I also liked how she showed the President of Erde Company, a member of the Tohma Group, how useful a secretary could be to help the whole company work more efficiently. So much attention is put on things such as sales, that it the support they get from the back office is often overlooked. I liked that it got some acknowledgement.
I'm on the fence about Midnight Secretary. There are a lot of elements I like in it, but I'm having a hard time seeing Kaya and Kyohei as a couple, and as a romance, it's a major component of the story. But there is enough here that I am willing to give it a few more volumes. If Kyohei could be less of an arrogant jerk, at least to Kaya, I would probably like it more.
Review copies provided by publisher.