Yukina is running into some trouble with rivals. Mami is a childhood friend of Shigure's who has feeling for him, but hasn't been able to tell him. She instead tries to trick or chase away any girls who might get close to him. Then there's Akira, her cousin, who is now trying to be in serious competition with Shigure to win Yukina's feelings. In the middle of these battles, Yukina and Shigure are trying to figure out their own feelings for each other. How much of it is real, and how much is still a game?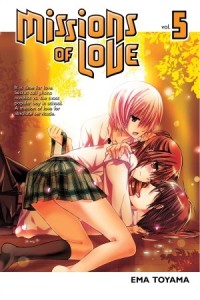 By Ema Toyama
Publisher: Kodansha Comics
Age Rating: Older Teen
Genre: Romance
Price: $10.99
Rating:





I read the first chapter of Missions of Love in Kodansha's sampler Real and really enjoyed it. I initially had doubts about it from just the series description, but the first chapter was enough to convince me otherwise. Despite being 4 volumes behind, I had little trouble getting into these two volumes and continuing Yukina and Shigure's competition to see who would fall for who first.
What initially attracted me to Missions of Love was the friction between the two protagonists, Yukina and Shigure. Neither really liked the other much; Yukina for Shigure's shallowness and Shigure for Yukina's cold reputation. By these volumes those feeling are still there, but there is a lot more sexual tension now between them. Yukina is starting to think about how Shigure feels about her, but she doesn't seem to understand why. She doesn't recognize that the reason she's bothered by Shigure spending time with Mami is because she's starting to have feeling for him. Shigure is just as bothered by the attention Yukina gets from Akira, but he isn't as oblivious as to the reason why. He's just in denial. They are both trying to keep their relationship to be game, but the feelings are growing, and it isn't just for fun anymore.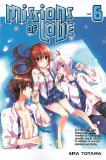 Akira and Mami stepping up their game to get their respective crushes to notice them doesn't help matters much. Mami's tricks only gets Yukina thinking more about what her relationship with Shigure is rather than pushing her away. Akira's attempts to make Shigure jealous by spending time with Mami only helps him to let her go. Akira thinks he's gotten a step on Shigure when he notices Yukina is sick and stays the night to take care of her, but what's going through Yukina's mind isn't what he thinks it is.
These complications affect the missions. There aren't as many in these volumes as more attention is put on the growing relationships. Yukina throws a few out at Shigure and Akira, but they are minor, and all come out of Yukina's attempts to figure out her own feelings. She pushes for more compromising situations such as her mission to seduce Shigure, and for Akira to forcefully kiss her.
Overall, I enjoyed these two volumes of Missions of Love. While I don't generally like clueless characters, Yukina is different. She's not dumb, just inexperienced, and she's trying to change that with the missions. She is very logical in her thought processes about love, which is probably why she is slow in understanding. I like that. So many shojo protagonists are overly emotional and think they know all about love. Yukina is trying to work it out herself. While she claims it's for her writing, it is affecting her own emotional growth, in a good way. Missions of Love is a fun romance that I can't wait to read more!