After coming to the realization that Kirishima-sensei was her first love, Yukina goes to face him on her own to finally know the love that she's been seeking all this time. Meanwhile, Shigure hears a rumor that reveals Kirishima-sensei's dark past and rushes off to tell Yukina, but before he can catch up with her, Yukina is whisked away by Kirishima-sensei in his car. Can Shigure reach them in time before Kirishima-sensei repeats an action from his sordid past?
Missions of Love Volume 9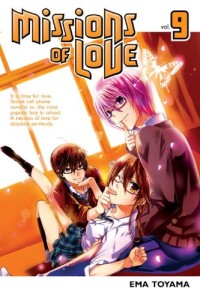 By Ema Toyama
Publisher: Kodansha
Age Rating: Older Teen
Genre: Romance
Price: $10.99
Rating:





I liked the first two volumes of Missions of Love that I read, so when I was given the opportunity to read more, I couldn't wait. But after two volumes, it seemed that little had changed, and I was bored with seeing Yukina still being completely clueless, Shigure still as cagey about his feelings for her, Akira is still plotting against Shigure and Mami is still holding out hope that Shigure would love her back.
Honestly, I don't know what exactly I was hoping for, but this volume wasn't it. I just felt frustrated at the complete lack of movement with the characters. Everything felt the same as it had back in volume 6. I guess I had hoped for something to have changed in those two intervening volumes, but it really felt like nothing had. What frustrated me most was Yukina. She's had all these "missions" with Shigure and it seems like she hasn't learned a thing. After eight volumes you would think something would have sunk in, but she's still as oblivious to feelings of love as she was at the beginning. She makes big proclamations, but when she finally gets some true feelings she still can't figure it out? Seriously? I also didn't care for the cheap shot of using her teacher to set up a seduction when all he really wanted was to find out if she was being bullied or abused by Shigure. The set up was too obvious.
Fortunately there was some character development, but it seemed to be all reserved for Shigure. I liked that he was against Yukina going off with Kirishima to learn "what love really is." Considering his feelings for her, it's natural that he wanted to be the one to show her that. Akira agreeing to let Yukina go felt fake, like he was trying to rack up points with her. Shigure also took several steps forward in admitting his feelings for her. He told Mami that he could see her as a friend, not a girlfriend, and he told Yukina that for her, he would stop acting fake. It was a relief to see someone in this series acknowledge their changing feelings and actually act on them.
It's also about time the story looped back around the cell phone novel plot that the whole "missions" are supposed to be helping her with. She's supposed to be applying what she's learned to her novels to make them better. Considering her rankings, she hasn't been doing that, or even writing at all. Hopefully contact from her rival will change that, and that by applying what she's learned in her novel it will finally get through to her as well.
I started out liking Missions of Love, but too much of the same can really kill the fun. There has to be some development in the characters, otherwise, what's the point in reading about them? Unless Yukina is revealed to be a robot, I'm having a hard time buying her continued inability to understand the emotion love, especially now that Shigure is stepping up his game. Toyama needs to step her game too, otherwise this title will really stagnate. I'm not looking for the proverbial lightbulb, just a few connecting the dots.
Review copy provided by publisher.