Shohoku has made it to the second round of the Nationals, and are matched up to play against Sannoh, last year's National champions. While Sannoh seems to be on a whole different level from Shohoku, the boys are ready to give up on their dreams of advancing just yet, especially Sakuragi. It going to take everything they got and every trick in their book to make it through this game. The question is, will it be enough?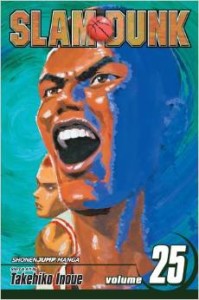 By Takehiko Inoue
Publisher: Viz Media
Age Rating: Teen
Genre: Sports
Price: $9.99
Rating:





Slam Dunk is one of those titles that can suck you in and keep you glued to your seat whether you think you'll like the series or not. I've read previous volumes and have enjoyed them all, but these volumes, some of the last before the end of the series are just amazing. There really is no other way to describe it. I know nothing about basketball and really don't care for it, but I could not put down a single one of these volumes and had to grab the next, the game was so gripping.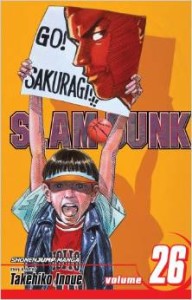 The entirety of these four volumes is dedicated to a single game; Shohoku's semi-finals game against Sannoh, the previous year's national champions. And they don't even end the game! These volumes only cover the game through to seven minutes left in the second half. They start out with both sides scoping out the competition through tapes of the teams playing. For Sannoh, this is no big deal. They easily spot Shohoku's player's weaknesses. For Shohoku, it's more of a shock to see how far out of their league Sannoh seems. It really shakes the confidence of the players, especially Mitsui, Shohoku's Center. Sakuragi isn't shaken though. He goes into the game with the complete confidence that they can win, and even if that confidence seems misguided, it helps the other players to go on the court with that same confidence.
The majority of volumes 26-28 happen all on the court. Even before the game officially starts, both sides show off for the crowd and the other team. Sakuragi is right up there, trying a flying slam dunk and failing, but he isn't fazed at all. As soon as the game starts, it becomes a battle of not just skill but also wills. Sannoh is taken by surprise by Shohoku starting play, but they soon get their rhythm and throw Shohoku off theirs and the game is like a teeter totter, the tide turning from Shohoku to Sannoh and the slowly back to Shohoku.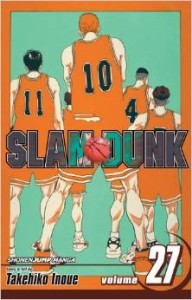 It is incredible how Inoue is able to put the reader on the court and in the players heads. All through these volumes, we are constantly seeing what the player is thinking and feeling as the game progresses. We also see how easy it is to get trapped by those thoughts. Akagi gets caught up in his belief that he has to beat Sannoh's Kawata, and it puts him and his team in the bad place. It takes his older brother and Sakuragi's outrageous antics to get his head back in the game. While Inoue draws exciting and dramatic shots and moves down court, it's the characters that really make this title awesome.
And it's Sakuragi that really gets to shine in this game. He might not know better when the others see how much better Sannoh is, but he never lets them intimidate him, and he never loses hope. He may be the loudmouth and a bit of a showboat, but he knows his teammates and what they need to get them focused on the game. Whether it's taking big about being a "phenom", or jumping on the tables on the sidelines to declare Shohoku will win, he knows what's needed and isn't afraid to do what it takes. He also finally has the skills to back up some of his words. He is the "offensive rebound king", and it's this skill that helps the team get their rhythm back at the critical moment in the second half.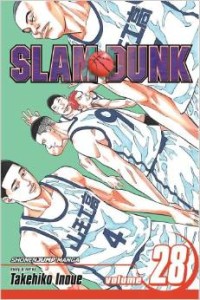 Slam Dunk is a Shonen Jump title that embodies the spirit without having to resort the to tropes. Building friendships, facing adversity and beating the odds, Slam Dunk does all this without being obvious about. Sakuragi was an annoying mess at the beginning of this series, but now, he is one of the strengths that the team can rely on. He smack talks his teammates, but they know they can trust him to do what is needed, and he isn't willing to give up, no matter what is in front of them. Whether or not you like basketball, if you like a good story with some real driving action and great characters, then you should be reading Slam Dunk.
Review copies provided by publisher.
Buy Volume 25
Buy Volume 26
Buy Volume 27
Buy Volume 28