Having defeated Tenga Koganei of the Tiger clan and recovered from the poison, Koushi and Momoko continue to face challengers to their engagement from other clans. Koushi, seeing how much his friends go through to help, decides to start training seriously. While makes good progress, the Monkey clan makes their move and usurps the Inuzuka claim to lead the Eastern army. Koushi's only hope to save the clans and regain his engagement to Momoko is to master the Myriad Seal and face Yuusuke in battle to the death.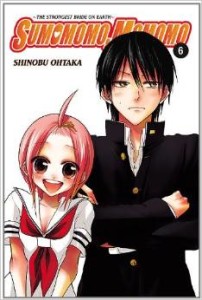 By Shinobu Ohtaka
Publisher: Yen Press
Age Rating: Older Teen
Genre: Action/Comedy
Price: $11.99 ea
Rating:





Sumomomo, Momomo was one of the debut titles in Yen Press' Yen Plus magazine. It was also a title I despised. The art was bad, and the story was worse. I never dreamed I would ever read another chapter of it, but I had these review copies, and no one else seemed interested in reviewing them, so I decided to see if it had improved at all. I will admit, these later volumes weren't as painful to read as the earlier ones, but the systemic problems of the series kept it from being memorable.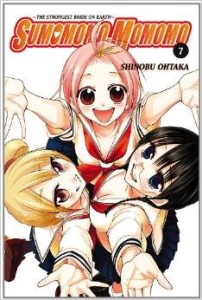 There were several things I despised about this series, the chief among was Momoko. I hated her. She was annoying with her obsession with wanting to bed Koushi. Koushi's pathetic attitude was just as bad. It's not a good sign when the two main leads are so unlikable. This starts to change by volume 6. Momoko seems to have settled down some what. She still wants to bed Koushi, but it's not her focus. It's become something that just comes up every once in a while, with Momoko trying to trick Koushi into agreeing. She is still a gungho fighter, and has no problem with coming to Koushi's defense.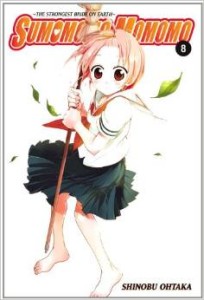 While watching Momoko fight Koganei, Koushi starts to realize he can't let everyone else fight his own battles, and decides he needs to train seriously. This becomes his main arc to the end. Both his father and friends try to help him, but it's only once he understands the seal his mother put on him and he trains alone in the jungle that he finally finds his strength. Even before the last volume, I was finding Koushi to be less annoying, as he stopped cowering and starting stepping up to take responsibility for himself.
Ultimately, that was the theme of the story; to make your own decisions and walk your own path. Koushi didn't become a real fighter until he found his own way, and even in his final battle with Yuusuke, he chose when and how to use the Myriad Seal despite what others thought. He used words first to try to beat this idea into Yuusuke, but in the end his had to use the Seal to end the duel mercifully for both him and Yuusuke. It was actually a decent ending.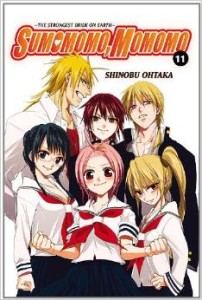 There were also parts in the middle that were decent. I liked Iroha's journey to try to resurrect her clan and regain their respect. Despite the betrayals of those she considered closest, she never gave up hope. She continued to fight and help Koushi against the Endou until the very end. I felt sorry for Sanae. Her power was just humiliating, and her grandmother had no sympathy, putting her on parade even to her friends.
And here is where things start to head downhill for me. I didn't care for the whole love polygon around Koushi that started with Iroha and Sanae, and soon added Shintarou, the daughter of the Inoue clan who was raised as a boy. The dip into harem territory didn't work for me at all, and actually felt distracting from the growing tension from the Endou clan's machinations. The humor didn't do much for me either. The getting into bed, Sanae's humiliation, the other boys' jealousy of Koushi, none of these things ever seemed funny to me, and the humor fell flat every time.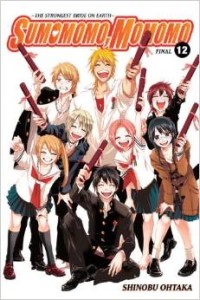 Sumomomo, Momomo worked best when it was being a martial arts fighting series, and was "meh" at best at being a high school harem comedy. There were some good character arcs, and the final message of putting yourself and your own will ahead of conflicting obligations was a good one. The final volume was the best, with this message and showing how everyone not only went their separate ways, but took paths that they chose on their own. I can't say I liked Sumomomo, Momomo, or that it was a good series overall. But it did have its moments and an ending worth reading. So borrow this from the library or a friend if you're curious.
Buy Volume 6                         Buy Volume 7                          Buy Volume 8                          Buy Volume 9
                       Buy Volume 10                        Buy Volume 11                        Buy Volume 12
Review copies provided by publisher.