Yato is a homeless god. He doesn't even have a shrine, not to mention worshippers! So to achieve his ambitious goals, he's set up a service to help those in need (for a small fee), hoping he'll eventually raise enough money to build himself the lavish temple of his dreams. Or course, he can't afford to be picky, so Yato accepts all kinds of jobs, from finding lost kittens to helping a student overcome bullies at school.
Noragami Stray God Volume 1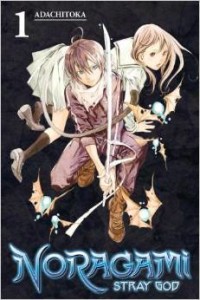 By Adachitoka
Publisher: Kodansha Comics
Age Rating: Older Teen
Genre: Fantasy
Price: $10.99
Rating:





Noragami is about Yato, a god who is at the bottom of the bottom of the deity hierarchy. He has dreams of gaining thousands of followers and building lavish shrine where he will be worshipped. In order to do this, he needs to be known and collect offerings. To this end, he puts up his number all around town, advertising his services, and only those who truly need it will see it. Yato's big problem; he is unmarketable. He is egotistical, and can be a real jerk, but he does have good intentions, and truly wants to help people. It's getting that last part across that is so difficult for him. His chance meeting with Hiyori gives him someone to help, but she isn't the average teenage girl. She saves Yato from being hit by a bus, but in the process, her spirit is thrown out of her body. As it starts to happen more and more, she seeks out Yato to fix it.
I didn't think I'd like this volume at first. Yato's attitude bothered me at with his self-absorbed delusions of grandeur. But he quickly grew on me with his blunt talk. The first story, where he helps a girl being bullied by her classmates, does a good job of showing his different sides. He doesn't show any sympathy for Mutsumi, despite his Shinki Tomone's, pleas. Her classmates are pretty mean, but she isn't completely without fault for the position she is in. I actually found myself taking his side when she was ready to just give up. He finally does help Mutsumi with her classmate problem, and his solution was really what she needed, despite Tomone's protests. I really warmed up to him at the end, where he looks so vulnerable, clutching his bottle of coins in the small shine.
I liked Hiyori as Yato's partner for the rest of the volume. She comes off as oblivious to the dangers around her, but she isn't afraid to take on a challenge or defend herself or others when in a pinch. Her less-girlish hobby of being a wrestling fan actually comes in handy when Yato is attacked by an Ayakashi. She jumps in without thinking, using a move by her favorite wrestler to save the day.
Noragami has a good amount of humor. Both Hiyori and Yato get to be the subject of the situation, though I found Hiyori's obliviousness more amusing that Yato being constantly disparaged. The argument Yato and Hiyori have while running away from an Ayakashi Hiyori found was one of the funnier moments in the volume.
I really liked the art. It is very realistic and detailed, reminding me a lot of Takeshi Obata's work. I also liked how Adachitoka used Yato's eyes to express his non-humanness. The character's emotions are conveyed masterfully, and rarely does he revert using more cartoonish caricatures, which would feel very out-of-place otherwise.
I was pleasantly surprised by Noragami, and am looking forward to future volumes. I am interested in seeing more of Yato's journey to becoming a proper god. While there was a majority of comedy in this volume, it did have its serious moments, and I hope we get more of these as the series goes on. Noragami is a series with a lot of potential to become another hit for Kodansha. It has an anime that streamed earlier this year, so it has name recognition. But really, it should succeed because it was just a fun read. And it has a cute cat name Milord.