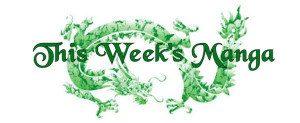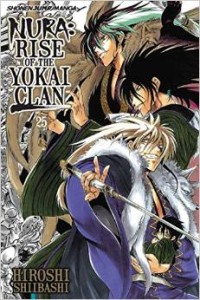 All good things must come to an end, and several of the titles on this week's list are doing just that. Viz Media has a huge catalog of titles, and most of those titles have an end. This week, we see four of them. Nura Rise of the Yokai Clan has been following third generation Yokai Yakuza Rikuo, and with volume 25, we see his story come to an end. It took a while for me to get into Nura, but I really started to enjoy the story at around volume 8. I'll have to get back to finish it some day. High School Debut gets to end a second time, as the 3-in-1 omnibus editions roll out with Volume 5 which includes volumes 13-15. This series had its moments, but was never a favorite for me.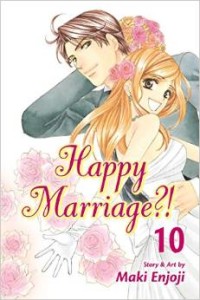 Viz is also one of the few publishers taking a chance on josei titles, and two of them end this week as well. Honey Blood is a short-lived vampire romance series, but this volume, Tale Zero is filled with short stories that may (or may not) help the abrupt ending of the original two volumes. Happy Marriage!? finally comes to an end at volume 10. It's a series I'm following, albeit slowly, and really need to do the long overdue review of the first two volumes I read ages ago. Maybe I'll try for Valentine's Day. This year.
Also worth checking out is the first 3-in-1 of the original Yu-Gi-Oh! I was a naysayer for the anime series, but really enjoyed the first 7 volume arc. This volume is the first three, and covers more than just the Duel Monsters card game that became the focus of the second arc. It was the variety and really the shadow games that made this first arc so much fun.
Full list per Diamond Distributors:
DARK HORSE COMICS
Gantz Volume 34 TP, $13.99
KODANSHA COMICS
Heroic Legend Of Arslan Volume 2 GN, $10.99
PERFECT SQUARE
Pokemon Black And White Volume 20 GN, $4.99
SEVEN SEAS ENTERTAINMENT
Centaur's Life Volume 5 GN, $12.99
Haganai I Don't Have Many Friends Volume 10 GN, $12.99
VIZ MEDIA
Assassination Classroom Volume 2 GN, $9.99
Black Rose Alice Volume 3 GN, $9.99
Bleach Volume 63 GN, $9.99
Deadman Wonderland Volume 7 GN, $9.99
Dendera SC, $15.99
Food Wars Shokugeki No Soma Volume 4 GN, $9.99
Happy Marriage Volume 10 GN, $9.99
Hayate The Combat Butler Volume 25 GN, $9.99
High School Debut 3-In-1 Edition Volume 5 TP, $14.99
Honey Blood Tale Zero GN, $9.99
Magi Volume 10 GN, $9.99
Nura Rise Of The Yokai Clan Volume 25 GN, $9.99
One Piece 3-In-1 Edition Volume 11 TP, $14.99
Spell Of Desire Volume 3 GN, $9.99
Tiger And Bunny Volume 6 GN, $9.99
Toriko Volume 26 GN, $9.99
Voice Over Seiyu Academy Volume 9 GN, $9.99
World Trigger Volume 4 GN, $9.99
Yu-Gi-Oh 3-In-1 Edition Volume 1 TP, $14.99
Yu-Gi-Oh Zexal Volume 6 GN, $9.99