Kenji and Shiro continue on their journey of discovery and acceptance as Shiro leans  why Kenji fell for him, Kenji finally meets Shiro's parents, they take a vacation to Kyoto together, and the pains of parents and themselves growing old sneak up on them. And through it all, Shiro continues to cook inventive yet simple-to-make dishes as well as adding new ones to his repertoire.
What Did You Eat Yesterday? Volume 6-9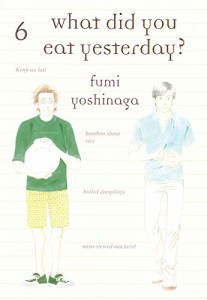 By Fumi Yoshinaga
Publisher: Vertical Comics
Age Rating: Older Teen
Genre: Cooking/Slice of Life
Price: $12.95
Not being a big foodie, I've been slow to warm up to What Did You Eat Yesterday?, but the more I read about Shiro and Kenji, and follow their lives, and those of their friends and family, the more it grows on me. Like a well-prepared meal, the more of this series you sample, the more you want to come back for more.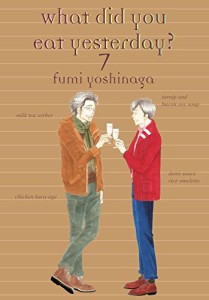 Shiro and Kenji's relationship really grows in these volumes. Shiro still has his insecurities about how he is seen to the outside world, but he really starts to let go of those fears. He starts out with small steps such as he and Kenji going shopping together, but then takes the big leap of bringing Kenji to meet his parents at New Years. They take a vacation together in Kyoto, and have a hanabi at a local park. With each step, Shiro becomes more comfortable with being seen in public, to the point where he tells his parents he won't be coming home on New Years if Kenji isn't welcome as well. It's a gradual acceptance, and quite a contrast from earlier volumes, where just eating out with another couple set Shiro on edge. But he's still not completely read to let go yet, as he still doesn't want his co-workers to know, but it's still some big steps for Shiro.
Shiro's growing acceptance is counter-balanced with misunderstandings and prejudices. His parents are surprised when they met Kenji since they are both wearing men's clothes, and apparently they expected Kenji would be dressed as a woman. It was a surprising expectation, but the reaction of a hetero couple who see Shiro comforting Kenji as they walk home isn't. Their comments are homophobic and a stark contrast to Shiro's gentle words. It's only a few panels, but really shows the prejudices homosexuals still face from the general populace.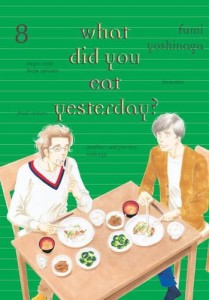 More is shown of the other couples that have been introduced. Kayoko, Shiro's shopping/cooking buddy, makes several appearances. Her daughter Michiru becomes pregnant, which turns into a boon for Shiro when there's food around she shouldn't eat. Shiro starts to become one of the family as Kayoko confesses something very personal to his casually, and Michiru uses on of the kanji from his name when naming her son. I really like Kayoko and her family. She's always ready to jump in and lend a hand.
The couple I don't care for is Kohinata and Wataru. Actually, I like Kohinata just fine, it's Wataru I don't like. He's whiny and narcissistic. He is constantly putting Shiro down for not being "gay" enough, and then crying when Shiro's "plain-looking" food ends up tasting better than his. And the way he treats Kohinata is terrible. There is really nothing I like about him, and could happily do without him.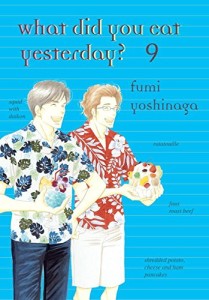 Shiro didn't get to do as much lawyering this time, with all this personal development, though I did enjoy his one consultation that started as a grouping settlement and quickly changed to divorce. His co-workers show up now and again, but not in any serious story, though I did enjoy the one scene where Shiro is finally cajoled into trying some reading glasses. The look on his face as he realized how clear the screen becomes is priceless. I can relate. Kenji's co-workers get a little more development as Tabuchi, a newly promoted stylist at the salon, gets a few chapters about how he picks girlfriends, and his boss has a new kink in his extra-martial activities as his wife comes to work at the salon in the new beauty treatment room.
The cooking segments felt more integrated into the chapters in these volumes. The preparation of the meals felt like they had more meaning than to just be like a cooking show in print form. Kenji cooks breakfast to cheer Shiro up after a case goes south. Shiro prepares a dinner to get Kenji to say "thank you" instead of apologizing after a disagreement. I'm even tempted to try one or two very simple recipes.
If you're not reading What Did You Eat Yesterday? I have to ask why not? This series is so full of heart. Kenji and Shiro are a great couple and so much fun to watch develop and grow closer together. Really, the whole cast is great (mostly), Yoshinaga comes up with some sometimes fun but always touching moments.  This really is a series that should be on everyone's must read list.
Rating: