In conjunction with the return of the Legend of Zelda comics in Japan, Viz Media is re-releasing the first ten volumes of the series as omnibus editions in time for the holidays this year. This seems like a good idea as it drops the series down to 5 volumes and gives it a bigger trim size, but with an MSRP of $17.99, this makes the series more expensive than the box set now available, even at full price. Most omnibus editions re-releases are priced lower than the original release. This is the going in the opposite direction. While I hope Viz picks up the returning Legend of Zelda manga, this isn't the way to get fans back.
VIZ MEDIA ANNOUNCES THE LEGEND OF ZELDA™: LEGENDARY EDITION MANGA OMNIBUS RELEASE
Beloved Manga Series Based On The Classic Nintendo® Video Game Franchise Returns In New Deluxe 2-In-1 Editions
San Francisco, CA, April 18, 2016 – VIZ Media, LLC (VIZ Media), the largest publisher, distributor and licensor of manga and anime in North America brings back the celebrated manga (graphic novel) series for THE LEGEND OF ZELDA on November 1st. THE LEGEND OF ZELDA: LEGENDARY EDITION is a new series of 2-in-1 releases of the classic 10-volume fantasy adventure.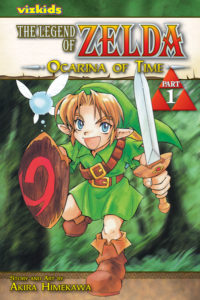 THE LEGEND OF ZELDA: LEGENDARY EDITION each contain two complete volumes of THE LEGEND OF ZELDA manga series, presented in a deluxe format featuring new covers and color artwork by creator Akira Himekawa, and will be printed in a larger 5-3/4" x 8-1/4" format.
THE LEGEND OF ZELDA: LEGENDARY EDITION Volume 1 contains THE LEGEND OF ZELDA: OCARINA OF TIME Parts 1 and 2, and is rated 'A' for All Ages. The release will carry a print MSRP of $17.99 U.S. / $21.99 CAN. Future iterations of THE LEGEND OF ZELDA: LEGENDARY EDITION will be released bimonthly for a total of five volumes.
The battle for Hyrule and the Sacred Realm has begun! A young boy named Link must defeat evil on his long, perilous quest to find the spiritual stones that hold the key to the Triforce, and deliver them to Zelda, princess of the land of Hyrule.
"THE LEGEND OF ZELDA is an unforgettable and tremendously loved property among multiple generations of video game, pop culture and manga fans," says Beth Kawasaki, Senior Editorial Director for Perfect Square. "We are very excited to bring fans THE LEGEND OF ZELDA in a comprehensive new way with these collectible omnibus editions."
For more information on THE LEGEND OF ZELDA and other anime and manga titles from VIZ Media, please visit www.VIZ.com.
About VIZ Media, LLC
Established in 1986, VIZ Media is the premiere company in the field of publishing, animation distribution, and global entertainment licensing. Along with its popular digital magazine WEEKLY SHONEN JUMP and blockbuster properties like NARUTO, DRAGON BALL, SAILOR MOON, and POKÉMON, VIZ Media offers an extensive library of titles and original content in a wide variety of book and video formats, as well as through official licensed merchandise. Owned by three of Japan's largest publishing and entertainment companies, Shueisha Inc., Shogakukan Inc., and Shogakukan-Shueisha Productions, Co., Ltd., VIZ Media is dedicated to bringing the best titles for English-speaking audiences worldwide.
Learn more about VIZ Media and its properties at www.VIZ.com.