"On the Ninth Day of Christmas, my true love gave to me, Nine Tails Fox Demon,"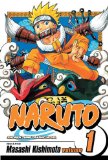 Naruto Uzumaki is a boy that lives in the Hidden Leaf Village.  He is a trouble maker and class clown at the Ninja academy he attends.  Even though he isn't very good at ninjitsu, he is determined to become the best Ninja in the village and become it's leader, Hokage.  But Naturo is shunned by the people of the village.  When he was a baby, a demon fox with nine tails attacked the village.  The demon was stopped and sealed inside of Naturo, but not before many people, including the then current 4th Hokage, were killed.  Naturo continues not only towards his goal of becoming the greatest ninja in Hidden Leaf Village, but to also overcome people's prejudices toward him.
Naruto is a wildly popular manga and anime.  I started reading it in Shonen Jump, though I'd seen it talked about over the internet for a while before that.  After reading a few chapters, I saw why it had garnered such a following.  It is a really well-written story.  There's good character development, and even though this is a shonen fighting manga, the plot melds it in seamlessly.  There doesn't need to be convoluted reasons like some villain wants to take over the world.  Animosities from the past seem to drive most of the action, and give them more credence, than the "next strongest villain of the week" that most Shonen titles suffer from.  As Naruto has gone on, it has become more interesting, where even a chase through the forest can be riviting.  And I don't think it's bad that it's central theme is about friends and friendship.  There's nothing corney about that.  Ignore all the nay-saying about this title.  It deserves the praise it's received.  Every manga fan should read this.
"Eight Dragon Priestess Guardians,
Seven Dragon Balls,
Six Girl Volleyball Team,
Five Bronze Saints!
Four Friends in Winter,
Three Siblings Cards,
Two Girls named Nana,
And a One Piece for the Pirate King."