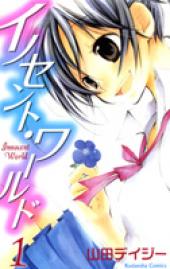 A Mom writes:
Hello, I have learned that my daughter is getting on a site and reading manga when she is on the computer. She is almost 13, and I need to please know that the manga that she is reading is not sexually explicit. I just really want to know how far they go and I have a list for you. Legendary Kang Do Gekkano Kimi Innocent World Kindai Renai Mahou Sensei Wegima! The Prince Who Fell In Love Full Contact Psychic Academy Mucha Kucha Daisuki Prism Palette She was on some of these for many pages, and others just for one or two. Please let me know if there are specific ones she should not be reading. Thanks so very much. Mom.
Thanks for the question Mom! A cursory glance at the list of titles says that most of these are not officially licensed, but that these are scanlations, fan created scans that your daughter is reading. These have been a gray-area for a long time, but are not technically legal in the US. But, information about these titles can be found online.
Legendary Kang Do-Young – This is a Korean manhwa. It's a romantic comedy about a boy and girl who both want to be the leader of their school, where for the boy, it's love at first sight, but not for the girl.
Gekka no Kimi – This is a seven volume romantic comedy with supernatural and historical elements. The son of an Emperor want his father's newest wife. He searches for a woman to replace her, ends up committing a terrible sin and is reborn 1000 years later, now afraid of women.
Innocent World – This is a one volume slice of life. All the students in a classroom are dealing with issues such as divorce, complexes and kissing, but they still manage to shine.
Kindai Renai – This is a collection of short stories that touch on romance, drama and the supernatural. These stories are on the older teen to mature side.
Mahou Sensei Negima! – This series is available in the US from Del Rey Manga/Kodansha. It's a fantasy, action-adventure harem (one boy surrounded by lots of girls). Negi is the youngest graduate from magic academy and is sent to Japan to teach at an all-girls school. Much hilarity ensues.
The Prince Who Fell In Love – This is another collection of short stories. These are mostly drama and romance.
Full Contact – This is a six volume sports manga. A fifteen-year-old boy decides to train in karate after a girl who says she likes strong guys dumps him.
Psychic Academy – This is an eleven volume series that ha been licensed by Tokyopop, but is also out of print.  It is a supernatural action-adventure title. Ai Shiomi is the younger brother of Zero, "The Man Who Stopped the Demon Lord". Now attending Psychic Academy, it is believed that he too is destined for greatness, a belief he doesn't really share.
Mucha Kucha Daisuke – This is a 4 volume high school romance. Aoi's parents are moving to Tokyo, and she has to got with them. A chance meeting with playboy-type Tokyoite Tsuyoshi results in a kiss that carries unexpected meaning for both of them.
Prism Palette – This is the first publication of popular mangaka Peach Pitt and is based on a ero-game. It's a harem comedy about a boy who spends his days at school surrounded by beautiful girls.
Most of these titles are appropriate for a 13-year-old girl. There is no explicit content from what I can tell from the descriptions. A few of the titles might be a little old for her though. Gekka no Kimi might have some questionable content at the beginning. Kindai Renai was written for young adults and might be too mature for her, and Prism Palette was based on a dating sim game, so the manga probably reflects that in the art and characters. Mahou Sensei Negima! is a border line title with an Older Teen rating from Del Rey, but it's more suggestive than anything actually happening. This is typical of harem manga, as much of the humor comes from the uncomfortable situations. The rest of the titles I think are fine. Keep in mind, I haven't read any of them, and my standards as a parent might be different from yours. I wouldn't object to my daughter reading most of these titles, only to the ones I mentioned here.
Depending on which titles your daughter spent a lot of time on, which she only gave a few pages should give you an idea of her reading habits. I see a definite trend toward the drama and romance that are found in most stories written for girls, with some action thrown in for variety. I would suggest discouraging the reading of licensed manga online from a questionable source, such as sites like Mangafox, which has continued to put up scanlations even after promising to take them all down. There are places online where manga can be read legally or for a modest price, such as Shonen Sunday from Viz. The manga there is free. NetComics has Korean manhwa of different genres and chapters only cost .10-.25 each. There is also promise of more on the way with Square Enix launching a new site soon as well a manga portal from 37 different publishers in the Spring of next year.
I hope this helps!