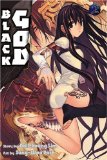 Black God, Volume 2

Story by Dall-Young Lim, art by Sung-Woo Park
Publisher: Yen Press
Age Rating: Older Teen
Genre: Action
Price: $10.99
Rating:





Balancing a normal existence and an unbreakable pact with a divine being is anything but easy. Much to his chagrin, Keita is discovering this the hard way. Try as he might to distance himself from recent events, Keita can't shake Kuro, the mototsumitama who saved his life. But when the stakes get higher and another human-mototsumitama pair comes looking for a fight-one with Keita's childhood friend, Akane, as the prize-Keita is forced to reevaluate his attitude and stand by both his old and new friends. Who will emerge victorious?
Several different plot lines pick up in this volume.  Keita and Kuro starting training, beginning with Kuro, and growing to include Keita working with her.  Keita's game coding start to take off with a company showing an interest in both the game and Keita's skills, and the group that is searching for the doppeliners continues to reduce the thirds down to the root.  I get the feeling that these three plot lines are related, but it's hard to tell how.