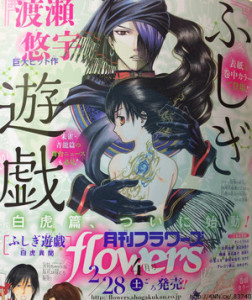 Shogakukan's Monthly Flowers magazine announced in its March issue that Yuu Watase will be launching a new manga in the Fushigi Yugi universe. Fushigi Yugi: Byakko Ibun, or Fushigi Yugi: The Curious Tales of Byakko, will start in the next issue due out at the end of February. It will have a color first page and will be featured on the cover.
Little is known about the story, other than it is about the Priestess of Byakko, the White Tiger of the West, and the only Priestess whose story hasn't been told. While the announcement said the chapter in February would "begin" a new series, Yuu Watase said on her blog that the manga wasn't going to be a full story. This implies that it will either be a one-shot or a short story containing several chapters. I hope it's the latter, for two reasons; 1) A one shot will only tell a sliver of the Priestess of Byakko's story, and 2) several chapters can become a volume and more likely to get licensed and released. I don't want to see a one-shot end up in a volume of Arata, assuming it starts up again. I don't need one volume of a series just for the one-shot. I've been lucky so for that most of the one-shots I've wanted have been in volumes of titles I collected anyway.
In any event, this is a series I'm interested in reading, and with Watase's continued popularity here in the West, I'm sure Viz Media will figure out a way to get it out for fans to read.