Sachie Wakamura just lost her mother, and her estranged grandfather has shown up to take care of her. The only problem is that Grandpa is the head of a yakuza gang! Sachie tries to continue living her normal life, but she can't run far since Rakuto, one of the most popular guys in school, is part of her grandfather's gang and her new protector. Soon, Sachie finds herself falling for her bodyguard. But she's the granddaughter of Rakuto's boss, so he can never show his feelings for her. Can Sachie find a way to fit into her new family and seize her chance at romance?
Wild Ones Volume 1-10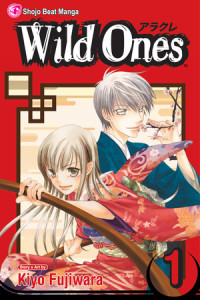 By Kiyo Fujiwara
Publisher: Viz Media
Age Rating: Teen
Genre: Romance/Comedy
Price: $8.99-9.99 USD
Rating:





When I first read the first two volumes of Wild Ones, I liked it. It wasn't amazing or groundbreaking in any way, but it seemed fun and the characters interesting. Then I binge-read the entire series. It unfortunately lost its charm pretty quickly as it fell into a rut of the same romance clichés and no character building.
Wild Ones follows Sachie Wakamura, the unknowing granddaughter of a Yazuka gang. After her mother dies suddenly, Sachie is thrown into the strange new world of big manly men having no idea how to deal with a girl and her girly things. She is treated like a princess and given a protector, Rakuto, who while being part of her grandfather's gang is also the prince of her high school. The story follows the high school years of Sachie, Rakuto, and romantic rival Azuma as they try to figure out their feelings for each other while trying to keep their yakuza connection a secret for their school friends.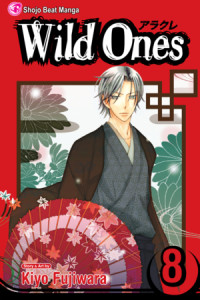 I wanted to like Wild Ones. I really liked the first volume, and while feeling more luke warm, still liked the second volume. But the further I went into the series, the less I found myself enjoying it. I didn't mind the clichés at first. I like the "friendly yakuza boss" trope, so I was fine with that. And I don't mind so much the all the usual shojo tropes that show up in most titles as they can have their uses. Going to the beach, the onsen, the school festival, introducing a romantic rival or character from the past to warn on of the protagonists off, all of these things can be useful in changing and growing the characters and their relationships. The problem with this series is that, they don't.
The characters never really change throughout this series. Sachie's and Rakuto's relationship never goes past the protector/protected stage. After every situation where one would think their relationship should move forward, instead it resets to the status quo. The introduction of Azuma as a rival to Rakuto never really goes anywhere, since Sachie never shows any interest in him other than friendship. He is shown to keep trying, but I kept wondering, what was he trying for? What made him think Sachie would ever look at him differently even if he showed up or pushed Rakuto out of the picture? He was there just for comedy relief/conflict with Rakuto. He never came off as a serious threat to their relationship.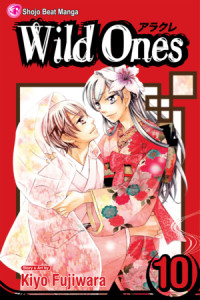 The other story element that just became boring after being played so many times was the trying not to let anyone find out their from a yakuza family. It came up in nearly every volume, from Sachie blurting it out, to her being seen with some of the men, to a former yakuza threatening to expose them, Sachie, Rakuto and Azuma are always on damage control to keep their class mates from finding out. This can be funny one or two times, but it comes out so many times, that the tension is drained, so when it finally does happen, it's more of a shrug than the deal breaking moment it should have been.
Wild Ones had it entertaining moments. Sachie and Rakuto's budding relationship did have some sweet scenes. They are a couple you want to see together. Rakuto's dedication to Sachie is almost envious, and Sachie can be tough but nice without becoming a tsundere. They just couldn't outweigh all the problems. The art is well done. I liked the character designs even if at times they seemed a little generic. It's not a title I would strongly recommend, but it's not a bad way to spend a weekend reading either. It's best borrowed from a friend or the library.
Some review copies provided by publisher.