I had intended to talk about this in my Comic-con post, but as I don't read many comics, it slipped my mind as I was ranting on other things. This was one of the few good announcements I heard come from Comic-con. Marvel is going to be bringing back the CrossGen Universe.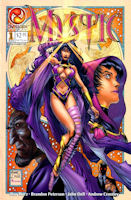 What's the big deal you ask? Well, CrossGen was a big deal for me. It's what led me back to comics and subsequently into manga. Back in 2001 (I think), my husband and I wanted to get back into collecting comics. My husband had read several superhero titles in the past, so it was easy for him to find titles he wanted to get back into. My comic reading had been mostly Elfquest, X-men, Blue Devil, Amethyst and various tv/movie tie-ins such as Dark Shadows. But in 2001, these titles either weren't available, or didn't really interest me.  So every trip to the comic shop was a wistful look at what was available, and my eventual walking out with nothing. Until, that is, my husband put an issue of Mystic, one of the first titles from CrossGen in front of me. I'd always been interested in fantasy, so I gave it a try. I figured it couldn't hurt. And I loved it. Finally, I had found something in the comic store that I wanted to read!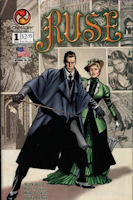 From Mystic I moved on to The First, Crux, and Sojourn. My husband was familiar with writer Mark Waid, so we started picking up Ruse as well. Back in the day, the first issues of Ruse were hard to find and expensive! I think we eventually found those issues. Harder to find proved to be the first issue of Sojourn. I never did get that one. I liked the shared universe concept they used for the series, and it was fun sometimes trying to find the sigil or figure out how the series fit into the universe. I stuck with CrossGen until the very end and was disappointed when it finally folded. I wasn't involved in the internet comic community at the time, so I was surprised by all the news that came out about what was happening behind the scenes. It was a real shame to see what I thought was a well crafted universe go down in flames like that.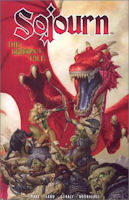 Fortunately for me though, at about that time, manga was starting on the rise, and I started looking at it more seriously. I mean, I had nothing else to read now. Most of my titles were gone. I was still finding comics to read, but most were either mini-series' or got cancelled soon after I got interested in them. So, manga became more and more my staple in the comics world, and has led to where I am today.
CrossGen showed that there was an audience out there for genre stories out there. I liked so many of their titles because they delved into genres I enjoy; fantasy, pseudoscience, and mythology. No other comic company has been able to do that since. Manga has been the only reliable genre comics that continue to appeal to me series after series.
Now, news has come out that Marvel, owned by Disney, who had purchased the rights to the CrossGen universe is resurrecting parts of the universe. My first worry was that they would try to force them into the Marvel Universe, which is already convoluted enough as it is. But in its latest Cup 'O Joe post, CBR spoke with Marvel's Vice President Executive Editor Tom Brevoort and he spoke a little more about the CrossGen project. This is the part that I found the most encouraging and just might be able to draw me back into the comics market:
Pretty much all of the CrossGen properties are not the kinds of things that we typically do. That is to say, they didn't publish anything that was a traditional super hero until the very, very end where they dabbled a little bit. Everything they did was "genre publishing" whether it was fantasy or science fiction or super-spy or western or barbarian or whatever. They did a wide range of material, not the kind of thing that Marvel has never done – but it's not what we typically do. So this also gives us the potential to try some different genres and to scratch an itch that people in our editorial group and amongst our creators may have had.
Wow. Marvel is realizing that there are readers out there that are interested in more than superheroes! And more than that, they are actually going to try to do something about it!! I'm ready to give Marvel a lot of kudos for this move. A lot more than DC, who is culling titles and lines left and right. It's taken a long time, and might just be a tiny step, but it's a step I'm happy to see Marvel finally take. With Pet Avengers and now CrossGen returning, Marvel has a good shot at taking back some of my manga bucks.