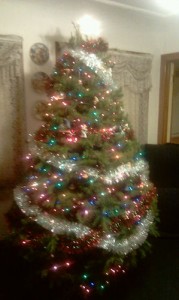 Last year I shared my Christmas haul, and had lot of fun doing it, so I decided to do it again. First through, I'd like to share our Christmas tree.  It's a pretty ordinary tree, with lights and tinsel and lots of ornaments from Hallmark. Many of them are animals, both wild, and dogs and cats. But, we also have a few fanish ornaments hanging on there. Everyone in our house is a big kaiju fan. We love Godzilla and his gang of friends and foes, and Gamera. So, when Godzilla Christmas ornaments came out a few years ago, we just had to have them!
The 2005 ornament lights up and has Godzilla roaring with bgm. The 2006 is more manual. The buildings shake, but you have to shake the ornament yourself. The third ornament we just stumbled up. It's the newest for 2010, with Burning Godzilla from 1995's Godzilla vs Destroyah.
We have a few intervening years we have to catch up on, but you can be sure there will be some more kaiju stomping around the tree next year. It's the only geeky ornaments we put up, though I think I might like a Stargate to hang on the tree.
I did pretty well on the present front too. I have pretty eclectic tastes, and you can see them in the gifts I received. Let's get the obvious out-of-the-way first. I have another blog, Manga Xanadu, which is dedicated to manga, so here's the manga I got: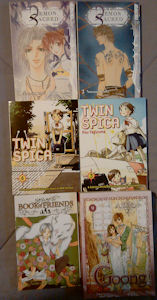 I do also read novels and non-fiction books. I'm a big mystery fan, so I got a few new cozy mysteries as well as the second book in a series I just started, the Cats in Trouble by Leann Sweeney. Of course, the other series features cats and books.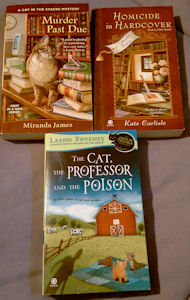 My other interests are reflected in the other books I got. I'm a chick, and love Doctor Who, so Chicks Dig Time Lords was a must for me. I'm also interested in pseudoscience (as in debunking it), so Phil Plaitt's Bad Astronomy sparked my interest. Moribito: Guardian of the Spirit is a fantasy novel from Japan, but fantasy is universal. I loved the anime, so I look forward to reading the book. Crusader Gold is the second book in a series by archaeologist Dave Gibbins. The first book was just riveting, so I had to have the second. It was an after Christmas buy, but I wanted to show it off anyway.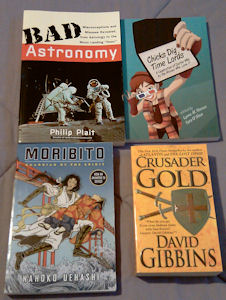 I like to relax at night with a good movie or TV show, so of course, there were some DVDs under the tree. I absolutely love the TV show Bones, so there are two seasons. It's 1 and 3, but my birthday is in January, so I'm hoping for 2 & 4 then. Death Kappa is a great flashback to the kaiju movies of the 60's and 70's. If you're a fan, don't miss this one! Dark and Stormy Night is by the same people who made The Lost Skelaton of Cadavera, and is a homage to the dark house movies of the 30's. It's great!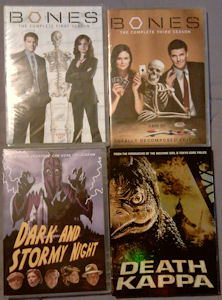 I don't play video games a lot, but there are some games I do enjoy. The Jewel Quest series, and most any Hidden Object Games I really love, so I got the best of both worlds in Jewel Quest Mysteries. And being a crafter, I had to have Crafting Mama. Maybe some day I'll be able to wrestle the DS from the kids so I an actually play it.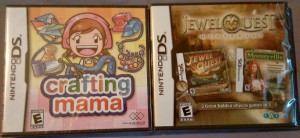 It was definitely a good Christmas. I'll be plenty busy throughout the year. What did Santa bring you?