The final day at Wondercon wasn't as crowded as Day 2, but then last days rarely are. Saturdays are always the big days with the largest crowds. Not that it wasn't crowded, but it wasn't as bad. We only had two panels to go to, with the second ending at 3:30 and we were going to call it a day. It was just as well too, since we were all feeling the pain of two days of mostly walking and standing. Yeah, I'm getting too old for the full weekend thing.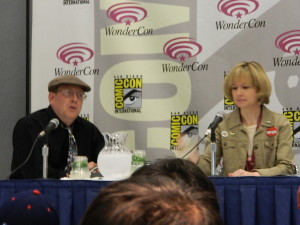 After we set the kids loose on the Exhibition Hall floor, we went up to the first panel. It was for Boom! Studios' imprint KaBoom! for their kids comics and show the debut of their new series Regular Show. We arrived to a sparsely filled room which surprised at least one attendee, since the creator of Regular Show, JG Quintel was going to a panelist. After about 10 minutes of a Wondercon staffer trying to entertain us with a cartoon video on his laptop, he announced the panelists were no-show/no call. But before anyone could leave, two people who work for KaBoom! on their Peanuts comics, Nat Gertler, writer, and Stephanie Gladden, artist, volunteered to come up and talk to us, just in case anyone called or came. They turned out to be interesting guests, especially Stephanie, who had a lot of experience at Cartoon Network in the early nineties. It was nice to see SOMEONE at Boom!/KaBoom! step up. Stephanie has a web comic of her own, Girls of Monster Paradise. Go check it out!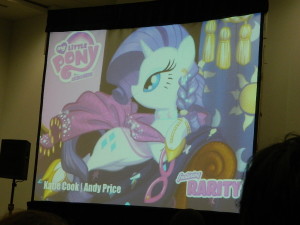 The last panel of the day went to IDW and their panel devoted to their Hasbro titles; GI Joe, Transformers, My Little Pony: Friendship is Magic, Dungeons and Dragons, and Magic the Gathering. They basically just ran down what was coming up in the next few months for all their titles. Of most interest to my youngest daughter was the MLP:FiM, but the writer and artist would only give hints about what was coming up. Suggestions from the audience included getting Jem and the Holograms going as a comic which I would totally buy, as would several members of the audience and even editor John Barber, and a massive crossover off all the Hasbro titles like their Infestation event last year. While there was some doubt about getting MLP in the same universe as GI Joe and Transformers, the writer and artist was game.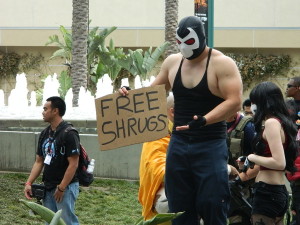 The day ended with one last run around the Exhibition Hall and a quick look out at the entrance for any more interesting cosplay. My final tally of loot was vol 10 of Hellsing, 7 Doctor Who vinyl mini-figs, with only one duplicate and an 11th Doctor! I filled two more holes in my Thor action figure collection, 3 in Doctor Who Series 6 collection, and picked up 3 One Piece Battle of Fishman Island blind boxes which yielded a Luffy, Nami and Usopp. I also got a Doctor Whooves t-shirt 10th Doctor version, and 3 cute buttons from Artist Alley; 2 Doctor Who and 1 Marvel Phoenix. My kids found that table. They got Phoenix Wright pins.