It is time for the truth to be told.  At last, all the secrets of the Hargreaves family are brought from the dark into the harsh light of day, as Cain's epic adventures draw to a close.  Is Cain ready to find out who he truly is?  Are you ready?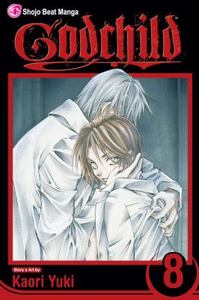 By Kaori Yuki
Publisher: Viz Media
Rating: 16+
Genre: Drama/Horror
Price: $8.99
This is it. After 12 volumes of mystery and intrigue (including the Cain Saga), we finally have a resolution to all the main characters fates.  It is the end of Delilah and the evil mastermind behind all the suffering of the Hargreaves family, but the villain isn't who you'd expect.
This volume starts off with Cain saying his final goodbyes before going to try to stop Delilah and have his final confrontation with his father.  He still must struggle past Delilah's Cards as his father prepares for Judgement Day and the resurrection of the soul of his dead sister Augusta and Cain's mother.  When Cain finally reaches the Delilah's headquarters, each confrontation ends in a resolution for each character.  Cain is able to face his father, and finish what he started in the Cain Saga, as well as resolve things with Riff.  The story ends on a semi-happy note, though we are left wondering Cain's true fate.
I was surprised by the end of this series, and was broadsided by the reveal of the true villain.  What I really enjoyed about this series, is the way all the loose ends were tied up.  There were no sudden gimmicks introduced to explain anything.  Everything that happened in the volumes leading up to this was related.  Even things that seemed to have one time uses, such as the mausoleum trap at the end of Cain Saga, return.  I also appreciated the way Yuki manipulated the narrative to completely hide the villain until the very end.  She had me going completely, but then added the missing pieces that turned the story around without having to change anything we had seen.  In all, it was an excellent conclusion.
There was only one thing that kept me re-reading was the end.  Cain's fate is left unresolved.  You can't tell from the final frame if he is dead or not.  Other scenes make you wonder if he is, but the final scene with Crenador leaves some doubt.  I guess this ambiguity isn't bad, as it leaves Cain's fate up to the reader, but I would have preferred a little more concrete of an answer.
After spending so much time with these characters, it was nice to see them all get what they deserved, for good or for bad.  Yuki's art is beautiful, though her men can sometimes look too much alike.  The gore is pulled off without being too graphic, mostly blood spatters and skeletons with their implications being more scary than actually seeing it.  Godchild was a thrilling ride, and this is the perfect end to it.