Yurara finds herself drawn to Mei, but her guardian spirit prefers Yako! Can Yurara sort out her true feelings?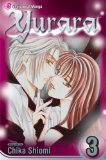 By Chika Shiomi
Publisher: Viz Media/Shojo Beat
Genre: Supernatural/Romance
Rating: Teen +
Price: $8.99
Last volume was all about Mei, and he and Yurara realizing their feelings for each other. This time, it's all about Yako, and his realizing her too has feelings for Yurara, just not the human one.
This volume starts with Yurara still struggling with Mei's confession from last volume. She still finds him hard to believe with the way he flits with girls. But then comes the surprise confession from Yako that he too is in love with Yurara. Yurara finds that she returns his feelings, but only when she is possessed by her guardian spirit. And then, the spirit of her Grandfather appears. He is to take over watching Yurara once she learns to use her spiritual powers and doesn't need the guardian spirit's help any longer. With the confusion between Mei and Yako, Yurara decides she doesn't want to transform and suppresses her guardian even after the school is over run by spirits because of Yako. He becomes depressed when Yurara dumps him for only liking her guardian form, and attracts the dark spirits.
I knew this story would end up being a love triangle, just not in this way. I thought the guardian spirit would be the catalyst, but not the object of the boy's affections. This gives the traditional love triangle formula an interesting twist. Even if Yurara doesn't want to transform, so she doesn't feel anything for Yako, she can't control her powers enough to stop it. So in good shojo tradition, the love triangle will continue, with more awkward moments for Yurara.
Yurara's relationship problems dominate this volume, so there isn't much room left for spirit releases as in the first two volumes. The introduction of Yurara's Grandfather has made for some new comic relief than just Mei and Yako beating on each other. With both boys having feelings for Yurara, it's hard to see them going back to their easy-going relationship. There's tension between them now, and that has changed a lot of the comedy. The evolving relationships have also changed the tone of the story, and are directing it down a more series path. Thing are going to be more difficult for Yurara, as she must learn to use her powers on her own. She will need both Mei and Yako's help to protect her, especially if she has to face some really evil spirits, as is hinted at. "Those with spiritual powers tend to get targeted." Yurara's Grandfather says. That's foreshadowing if ever I've seen it.
Yurara is still a good read, even as it goes further into romance territory. Her doubts and feelings are the same as any girl would feel, as are her reactions. I'd just like to get back to more stories about her powers than her preferences.