Kaguya doesn't remember who she is or why she has a huge scar on her back.  Six months ago, she was found injured and unconscious in a field of bamboo.  Now she works as a housekeeper and babysitter at a brothel, living her new life simply as "Kaguya".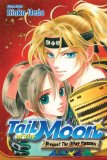 By Rinko Ueda
Publisher: Viz Media
Age Rating: Older Teen (16+)
Genre: Historical, Romance
Price: $8.99
Kaguya's real identity is entwined with two men–Hanzou, a handsome bodyguard of Okazaki Castle, and Hanzo, a leader of the ninja village of Iga.  Between amnesia and mistaken identity, no one knows for sure what kind of person Kaguya is.  Only her distinctive scar will lead her to the truth…
Tail of the Moon Prequel has a heroine just the way I like them; smart and in control.  As either Kaguya or Princess Sara, this female lead is never clueless, a klutz, or unable to act on her feelings.  This, plus the historical drama, makes this volume a real pleasure to read.
I read the preview of this in Shojo Beat, and really enjoyed it. So I was thrilled at the chance to read the whole volume.  It's essentially two stories about Kaguya, a worker in the brothel, who turns out to be a Princess, but not in a way you'd expect.  The first story centers around Kaguya and how she falls in love with Hanzou Hattori, a guard at Okazaki castle and how that leads to her regaining her memory.  In the second story, she is Princess Sara, a member of the elite ninja group for theOda clan and daughter of Oda Nobunaga.  She goes on a mission to Iga village, under the guise of marrying Hanzo Hattori, who she thinks is her Hanzou, but she gets a surprise.
The characters are great.  Kaguya/Princess Sara is the perfect lead in this story.  She's upbeat and strong-willed.  It doesn't matter to her if Hanzou is handsome and popular with the other girls.  She doesn't like his advances, and she lets him know.  She doesn't let her feelings get completely in the way of her missions.  Even if she lovesHanzou, she doesn't let that stop her from trying to assisinate his lord, Tokugawa Nobuyasu.  Hanzou is rather typical for the male lead.  Handsome and kind-hearted, he is attracted to Kaguya, despite her imperfections.  But he's still like-able, as is the other Hanzo, who shows the same kindness and is just as good-looking, if only a little older.
The historical aspect of this title is the other great boon.  It takes place at a time when the Tokugawa is still trying to establish its power, and Oda Nobunaga is a force to be reckoned with.  The first story has the subplot of an alliance between the Oda and Tokugawa clans by having their heirs marry.  Nobuyasu however doesn't prove to be as committed to the alliance and it costs him.  The second story involves Oda and it's conflict with the Iga ninja clan.  But subplots really add to the stories, giving them some significant context.  And I just love historical dramas that work in real historical figures.
The art is well done.  Ueda's males are bishonen, but still retain their masculinity.  It's the perfect balance.  Princess Sara is pretty, without being stunning, and has just enough of a masculine feel that her ninja prowess is believable.
Overall, Tail of the Moon Prequel: The Other Hanzo(u) is a great read.  The balance of romance, comedy and action are perfect.  And knowledge of Ueda's main manga Tail of the Moon is not needed to enjoy these stories, though knowing about it may add to its enjoyment.  Historical and/or romance fans will thoroughly enjoy this title.