It's not every day that someone stops reading Fullmetal Alchemist and gives it up for two years. I probably already sound like an idiot for giving up this series a few years ago, but Lori gave me the chance to check out the latest volume of Fullmetal Alchemist, and I grabbed on without thinking. Reading it has been a bit of a shot in the dark; understanding the storyline from that long ago to now has taken a few leaps of faith on my part, but it's easy enough to put the pieces together. So, in this review, and in a few of my next reviews, I'll be hoping into a series mid-way and giving my impressions of how well the book manages to introduce the readers to the current story.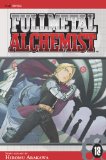 By Hiromu Arakawa
Publisher: Viz Media
Age Rating: Teen
Genre: Action/Fantasy
Price: $9.99
Volume 18 is a continuation of the events that occurred last volume, and it gives up more information about the Homunculi, and perhaps what their plans are for the near future. Al and Ed are as crazy as ever, and the deadpan humor of the series retains its quirky charm. It is amazing how Hiromu Arakawa can switch from being hilarious to dead serious in two panels. The series works well this way, and where many mangaka fail to make these transitions flow, Arakawa has made it into something of an art.
The illustrations and composition of the panels is top-notch, and a definite change from some of the books I've read lately. It appears that in my absence, Arakawa-san has increased her mastery of composition, much to my pleasure. Reading the book was quick and it never lost my interest.
As an overall book, this is definitely not the one to start back in on. We're right in the middle of a pretty thick story-arch, and it does you no good to jump right into the middle. Volume 18 isn't a complete wash for someone who is new to the series though. It does deal out some juicy details, and it's definitely worth reading. If nothing, it has peaked my interest in the series again. I can already feel my wallet aching.