Short Tempered Melancholic is a series of one-shot shojo stories. Unlike many manga, which span multiple volumes with twisting and turning plot arcs, ever evolving characters and increasingly complex storyline additions, Short Tempered Melancholic is a piece of work that stands on its own – more importantly, it is 4 separate works that all stand on their own.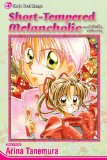 By Arina Tanemura
Publisher: Viz Media – Shojo Beat
Age Rating: 13+
Genre: Romance
Price: $8.99
To then review Short Tempered Melancholic, each of the stories in the collection must be looked at.  The title story is actually in two parts, and involves a young girl ninja who battles between her training and giving up her ways for a boy she likes. It's a cute, saccharine sweet tale, and the action breaks up some of the storyline, giving it air to breathe. This is most definitely the best of all the stories, and especially for a mostly shonen reader, the action gives it less of a learning curve than the other stories.
The rest are fairly typical plot lines. The second story is "This Love is Non-Fiction," and is probably the second best of the 4 stories in the book. It unfortunately telegraphs its ending quite early, which makes the middle of the story somewhat of an exercise in patience. There aren't any tricks to change the ending, and it's fairly standard, but the author's quirky humor can accentuate the tale, so it's still a fairly good read.
The third and fourth stories are typical, and less amusing than the first two. "Rainy Afternoons Are For Romantic Heroines, has quite a cute theme, but it's almost cliché. Finally, "The Style of Second Love," is fairly standard shojo fare, and it doesn't really break any ground.
The art is done well in some places, and poorly in others. It is clear that this introductory work is a stepping off point for Arina Tanemura – author of The Gentlemen's Alliance Cross. The stories, while interesting and sweet, can be at times a little underwhelming. There are translation notes for this volume, something not normally seen in Viz books. Paper and binding are standard Viz, which is lower quality, but also lower priced.
Overall, Short Tempered Melancholic is a good, but simple shojo manga. If you walk into the book not expecting masterful drama and the strongest storylines, you'll most likely enjoy this sweet collection of shojo one-shots.