In the first volume, Lim gave us blisteringly fast, bloody fighting. With the talented illustrator Park, he gave us gorgeous art, busty women, high tension scenes, and a background story for three characters thrust into something unfathomable. He also gave us tens if not hundreds of tiny, niggling questions. These questions made it so hard to truly enjoy Black God, Volume 1. Now, with the second volume, we still have questions, but a few more answers.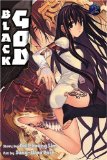 Written by Dall-Young Lim; Illustrated by Sung-Woo Park
Publisher: Yen Press
Age Rating: Older Teen
Genre: Drama
Price: $10.99
In this second volume, we foray into a deeper, darker world, and meet a second motsumita, a superhuman guardian of the earth's "terra". While these things have started to take on a meaning other than plain jibberish, their strength as story telling terms has not reached a high point . Throughout the volume, Lim uses these words, phrases, and expressions to divulge a secret, carefully crafted like a lotus, its petals peeling away one at a time. The result is a maddeningly suffocating curiosity that permeates the second volume.
Many impressive things from the first volume turn out to be mainstays of the seinen manga – its impressive fight scenes and beautiful art are still just as magnificent. Many illustrators could take a leaf from the book of Sung-Woo Park, whose brilliantly orchestrated fighting leaps off the page. I was so convinced by the two motsumita and their anger that many of the punches, kicks, and throws made me wince.
Yen Press has delivered a book that is only rivaled in quality by Del Rey. The paper is crisp and clean, and the inking is attractive, well finished. For my money, Yen Press has constantly delivered high quality books that look good on the book-case.
As the story goes, it is apparent that Lim is willing to resolve some of our questions in further volumes, and that is good. While Black God is, at this point, not a must have, it is surely a startlingly good read, and a powerful seinen story.