Yamaoka and his father Kaibara Yuzan, have never enjoyed an ideal father-son relationship.  In fact, it's about as far from ideal as possible, and when they start arguing about food–which they inevitably do–the sparks really fly.  In this volume of Oishinbo, the subject of dispute is fish, starting with the question of whether mackerel can ever be truly good sashimi.  Later, things come to a head during the "Salmon Match" which pits father against son in an epic contest to develop the best dish before a panel of judges.  Will Yamaoka finally defeat Kaibara?  Or will he once again be left in his father's shadow?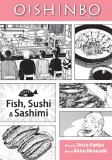 Written by Tetsu Kariya; Illustrated by Akira Hanasaki
Publisher: Viz Media – Viz Signature
Age Rating: Teen
Genre: Food
Price: $12.99
The overall premise of Oishinbo is that Yamaoka and his partner Kurita are compiling the "Ultimate Menu" of Japanese cuisine for the 100th anniversary of the publishers of Tozai News.  Each volume of Viz's compilation of this long running series is centered around a type of food. This volume is all about fish.  The stories are episodic, and can be broken down into two types; Yamaoka helping someone out or putting someone in their place about food, and Yamaoka vs. Kaibara, his father, over some kind of food dish.
Yamaoka comes off as lazy and a cynic, but at heart he really is a good guy.  Whether it's coming to the defense of a young boy's opinion, helping a man get over being dumped by a girl, or a student accept getting into his second choice college instead of the first, Yamaoka finds a way through food.  I really enjoyed these stories, as they showed both Yamaoka's knowledge and skill as well as his good heart.
What I didn't enjoy were the stories with Yamaoka competing with his father Kaibara.  Now, I don't mind the competitions themselves.  They require both skill and knowledge, with much of the latter being imparted to the reader.  What makes a good sashimi, why salmon and other fresh water fish shouldn't be used as sushi and what's really important when making a meal for someone are all topics covered in this volume.  While I found the information interesting and informative, I just couldn't stand Kaibara.  His overly smug attitude toward Yamaoka, and people in general really struck me the wrong way.  I know I'm not supposed to like him, but his whole demeanor made some of these chapters just unpleasant to read.
The art in Oishinbo isn't very realistic.  It's rather simplistic, with a newspaper comic feel to it.  There aren't a lot of the manga conventions you see in a lot of other titles, making this very friendly to a non-manga reading audience.  The food and the fish are very realistic, on the other hand, showing the emphasis is on the food more than the people.
Overall I found Oishinbo A la Carte to be an enjoyable read, though Kaibara did drag it down some.  Other people may not be bothered by Kaibara so much, so this is still a title I recommend.  If you've ever wanted to try a manga without all the baggage, or are just curious about Japanese cuisine, this is a title you definitely want to check out.