Meet Noh-A Joo, a brand new student at Amityville North High School. We're barely introduced to the girl when suddenly we get to watch Noh-A get her head chopped off in a gigantic battle between Jack Frost, the only surviving student of North District, and the head guidance councilor of the West District, Hansen. Jack, armed with two sword-like blades attached to his arms brings the heat on Hansen, who wields what appears to be a gun that has been blessed with holy power. A few beautiful fights scenes, some perverted comedy, and ridiculous and disturbing panty-shot scene later, and Noh-A is alive, in a neck brace, in the hospital wing of the school.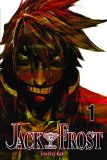 By JinHo Ko
Publisher: Yen Press
Age Rating: Older Teen
Genre: Horror
Price: $10.99
It turns out that Noh-A is a "Mirror Image," an immortal in the realm of Amityville, whose blood can be used to heal any wound. While the origin of her special power is not explained, the comic does explain that Amityville is a place where people who fall out of the reincarnation cycle go, to live and then die for good. Amityville is a world that is writhe with battle. Different districts of Amityville have been competing to be the most powerful sector, and Jack Frost is the only remaining student in Amityville North High School. The rest have died in terrible wars.
Jack Frost is a comic that doesn't take time to explain what the hell is going on, and it revels in that. Terms and words are bandied about without the reader really understanding what they mean, and things aren't really well-defined at all. We get a bit of exposition here and there, but nothing dramatic, and while Amityville is explained a bit, the first volume does nothing to clarify why Noh-A is there, why Jack Frost or any other people are there, and what the purpose of this place actually is. There seems to be plenty of violence though, and the head of the North District, Helmina, seems to be planning some colossal war. While some will love the confusion and "keep you guessing" type storytelling, I can't say that I'm a huge fan. Lack of understanding is made more bearable by the jokes inset throughout the manga. They break up the violence and make things a bit easier to read. Ultimately though, the storytelling falls flat.
Hopefully, the next volume will follow-up with its plot threads and tie a few together – I can stand not knowing things, but I'll be more inclined to like the series if the story telling gets better next volume.
The storytelling style is almost forgivable when paired with the immaculate drawings of author/artist Ko. The composition of each frame and drawing are mixed with well orchestrated fight scenes, and the book flows extremely well. I like the art much better than Croquis Pop (another book which JinHo Ko illustrates). The shading, tones, and use of speed lines and impressive backgrounds give the manga a fast-paced feel, and the action moves at a brisk pace.
The character designs for the series are great with one exception – I wish Noh-A was a little less pathetic. Jack handles her like a sack of potatoes, and she's getting beheaded all the time. Helmina, the Head of the North District (principal, maybe?) is a S&M goddess personified, and Jin is the hot school nurse that seems to pop up in manga all the time.  She may or may not be the school security system as well. Jack and Hansen are creepy, freaky battle-obsessed warriors who will do anything for a good fight. The cast is all voluptuous women, athletic demon/men and roaming zombies, except for Noh-A, who stands out like a sore thumb. Her "cute" design looks awkward beside the other characters.
If I had to summarize what Jack Frost is all about, I think I'd say that it is very much like this – a bit of action, some more action, action-packed action, extra action, and a little action on the top. It is clear that the premise of Jack Frost at this point is to show you how cool fighting can look, and it does that with gusto. The storytelling isn't enough of a turn off for me to not get the second volume, because at times, I was very intrigued and interested with where things are going. Still, this series is going to need some definite work to get off the ground and become a great series. Overall, if you're interested in violence, good action scenes, pin-up women featured in various glamor shots, and some terrific art, then Jack Frost is the comic for you.