Karin continues to come to terms with her feelings for Kenta, but her flirting will have to be put on hold for now. Karin's grandmother is in town, and that's enough to put her entire family into a panic. Elda Marker is no silver-haired, cookie-backing matriarch. She's a hot and heavy vampire vixen with a taste for blood, but a distaste for everything else having to do with the human race. So how can Karin possibly tell her about her new human almost-sorta-not-quite boyfriend? It's going to be one freaky family reunion!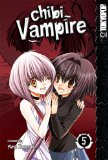 By Yuna Kagesaki
Publisher: Tokyopop
Rating: Older Teen
Genre: Comedy/Horror
Price: $9.99
After 4 volumes of almost all comedy, Chibi Vampire is starting to get some real drama going.  The awakening of Elda Marker works as an introduction into the more vampiric side of this series.  Up until now, it has mainly been about Karin living the human world.  With this volume, we start to see more of the issues vampires have to deal with.
Elda's awakening of course brings lots of troubles for Karin.  Elda has a taste for young blood, and hates humans in general.  So no one wants to tell her about Karin's "condition".  And worst of all for Karin, Elda looks almost exactly like her!  This gives rise to plenty of mistaken identities as Elda crashes Karin's school's Cultural Festival.  Elda's visit is short-lived though, as she tries to awaken James, her husband, but he has dried out.  Something that can happen to vampires, we learn, when they lose their thirst for life.  Elda decides to go back to sleep, not wanting to be awake without James.  Some clues are dropped about James and that Elda knows more about Karin than she's let on, leaving Karin to ponder her Grandmother's parting words. Then Henry and Caldera head up north for the Assembly, a yearly meeting of the vampires in Japan, where we learn that, other than the Markers, no other vampire children have been born in the last 100 years.  It's a serious issue for the other vampires who want to know how Henry and Caldera had three!  Though Caldera wonders to herself what the other would think of a child like Karin.
Though there are more serious moments than usual in this volume, it still keeps its great humor.  The Cultural Festival with Karin's class doing a haunted house was very funny.  Karin can't scare anyone, Usui's eyes scare everyone, and the doll Anju gives Karin to keep an eye on her, makes the house a success!  And the family's reactions to Elda's awakening had some good laughs, especially Ren's.  There is also a great bonus story that tells how Caldera and Henry met.
I've really loved the comedy of this series so far, but the growing drama has really added a lot of dimension.  It's not just a flat comedy relying on one shtick.  The fleshing out of not just the characters, but also the world they live in, keeps this series fun and fresh.