Asuka takes Ryo to an amusement park where he plans to confess his feelings to her.  Too bad all the rides Ryo wants to go on frighten Asuka! Can he overcome his fear for the sake of love?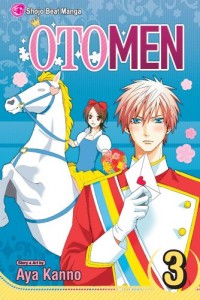 By Aya Kanno
Publisher: Viz – Shojo Beat
Age Rating: Teen (13+)
Genre: Romance/Comedy
Price: $8.99
Asuka Masamune is a otomen, a man who enjoys girlish things like cooking, sewing and shojo manga. But because of his father, he can't openly enjoy his girlish things and always projects a manly image. No one knows his secret, except for Juta Tachibana, who has a secret of his own. He is a mangaka, and his current series, Love Chick, is secretly based on Asuka (the female lead) and Ryo (the male lead), who is a girl Asuka has fallen in love with in real life. The problem with Ryo? She only likes manly men. So, this series follows Asuka and Ryo's budding relationship, pressed on by Juta who needs more fodder for his manga.
If I had known this was where the manga was going way back when it was previewed in Shojo Beat, I would have started reading it sooner. I didn't care for the first chapter that was previewed, and really didn't like Kanno's previous manga Blank Slate, so I didn't was expecting something as quirky and fun as Otomen turned out to be.
Right from the start, I had no problem getting into the story or characters. The introduction at the beginning of the volume told me everything I needed to know. With a small cast and simple premise, it was easy to jump in. While the focus of the story is on Asuka and Ryo getting together, with them working together at a daycare, and going to an amusement park, this volume really shines when it puts some focus on some other characters. Juta's free-loving ways nearly get him into some trouble when the girls at school convince Asuka to find out if there's another woman in Juta's life. The truth ends up being stranger than fiction, though the answer the girls get is not what they expect. While predictable, it was still funny.
And then there's Hajime Tonomine, a member of another school's kendo team who sees Asuka as his sworn enemy. They both get recruited to help out at a Lovely Beauty Fest. They play in a stage show as part of the sentai team Harakiri Ronin Team Samurai Five. I enjoy sentai shows, and really like it when they are incorporated in to manga like this. The whole scene is really funny. Asuka ends up revealing his secret to Tonomine, who turns out to also have a secret. I loved how Asuka and Tonomine were like two sides of a coin, and despite everything, Tonomine still proclaims Asuka his sworn enemy. No matter how girly the guys are, they can still prove themselves manly.
The art is clean and I had no problem with the layout. Everything flowed nicely. The boys are all very bishonen, something I don't mind at all. I really enjoyed the role reversals in this title. Even though Asuka is the man, he is treated as the female protagonist, with the inner reflections and constant blushing. It is just so refreshing, and really fun!
Otomen is a great title that even though it's shojo, both men and women can enjoy. It's funny, creative and just an all around great read. I highly recommend it.