Abandon the Old in Tokyo is a collection of eight short stories each with an interconnecting theme. Each is centered upon a working class male living in a gritty urban setting, and sometimes the protagonists are even drawn in similar manners.
Originally reviewed by Matthew Rozier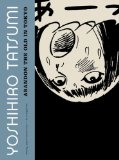 By Yoshihiro Tatsumi
Publisher: Drawn and Quarterly
Age Rating: Not rated, but contains mature content.
Genre: Drama
Price: $19.95
Each story is thought-provoking as Tatsumi deals with a variety of subjects ranging from alienation/disconnection from society to poverty to sexual dysfunction. Tatsumi deals with each subject with such a down-to-earth sense of honesty. Almost as if he experienced each of these things himself. He also manages to put so much depth into each of his short stories, so much that he really asks all the right questions. Questions like: why do we do the things we do? what does it take to stand out amongst other "individuals?" are we really any different from animals?
Tatsumi's art is gritty and rough, even sloppy at times. His character designs also do not exhibit the greatest range, as sometimes it is difficult to tell characters apart. He also draws the protagonist exactly the same in a few of the stories. In an interview at the conclusion of the book, Tatsumi states that the identical protagonists were intentional, but do not represent the same character. The actually represent the everyman of Japanese society, and Tatsumi's hatred of discrimination and inequality. Still, there are plenty of moments in which the minimalistic art works perfectly, instilling moments of awe when mundane moments work as a microcosm of the harshness of life.
Abandon the Old in Tokyo is a wonderful little gem of a book. Though it can be very disturbing at times, it is definitely one for the thinking man, making it a must-have for discerning manga fans.